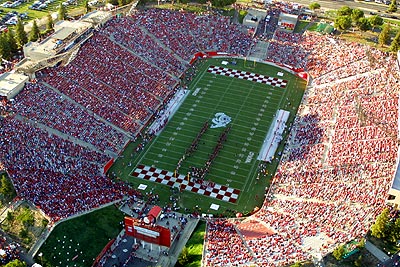 In case anyone doesn't know that is Bulldog stadium on the left. It isn't the largest of stadiums nor is it the most beautiful. But it is the home to our Fresno State Bulldogs. That in itself should be enough to sell out our home games yearly. Fresno only hosts six home games a season at the most. This season we have Nevada, Oregon, Hawaii, and Colorado State on our home schedule. It would not surprise me one bit to see all of those games with open seats throughout the stadium. Bulldog stadium seats close to 44,000 people. In the central valley and surrounding cities there are close to one million people total. Fresno State is the only Division one school in the central valley with a college football team that is competitive with the big boys year in and year out. Fresno State puts player upon player into the NFL and has an outside shot at having three Bulldogs drafted in the top two rounds in 2007. But you know what I am willing to bet? I bet every one of you so called Fresno fans that we do not sell out more than one game at home. In order to sell out a game only five percent of the central valley would have to attend them game, yet we still cannot find way to get people to the games.
Fresno State does everything in their power to get people out to watch the games. They offer ticket prices that are reasonable and actually offer verious specials yearly to get us to fill the stadium to capacity. This year they are offering four game ticket plans for 89 dollars and are even allowing you to see Hawaii, Oregon, and Colorado State in that package. For the Nevada game fans were able to buy four packs for 60 dollars. Four people could go to Bulldog stadium on Friday and enjoy a Bulldog game (one of the best sources of entertainment in the valley) for 15 dollars a piece. I don't vent often but this is one situation that has always bothered me. Last year we played La. Tech with the WAC title on the line and the attendance was a disgrace to the football program (36,000 fans but there were far less in the stadium). In fact we did not sell out one game last season. We couldn't even sell out the Boise State game which by all means is one of the most important games of the year.
I hear Fresno fans complaining that we do not get enough media coverage. I hear Fresno fans complaining that we do not have the facilities to compete with the bigger schools. Well Fresno fans you are correct; we don't have these amazing facilities or the great tv and media coverage schools such as the Pac-10 do. But do you know where it starts with? It starts with us as fans. If we cannot sell out games now, why do you clamor for a bigger stadium? Do you think knowing that Bulldog stadium has a capacity of 55,000 will change the way fans flock to the game? All I am saying is support Fresno State win or lose. Look at these big schools you want to compare the Dogs to. Tennessee had a horrible season last year, yet when you look at there attendance it is always near full capacity. In Tennessee they may not have been happy with the 2005 season, but they supported their team none the less.
In the end I am asking fans to support Fresno State. Obviously my blog is not going to be the reason why Bulldog games all of the sudden sell out. But just think about it; If there were 36,000 fans in the stadium and you brought one guest for every four that showed up, you just sold out the stadium. It doesn't take much effort to do. My friend and I both bought two sets of season tickets so we could add to the core group that goes to the games. We started out with two tickets five years ago and now our friendly section is up to twelve. Next season I know it is going to expand to sixteen people. Just advertise Fresno State. They are going to be a good team, and it will be well worth it to watch them. But Bulldog fans, watch the Dogs whether they win or lose. One day they will not lose a game and you will feel good because you supported them throughout the good times and the bad. We could be Idaho, or New Mexico State. We could have very little direction. Instead we are Fresno State and personally I am proud to be a Bulldog fan. All of you true Bulldog fans should be as well.
Note -
My above comment referring to true Bulldog fans, well if you are readin this blog I am not putting you down. I know there are plenty of true fans out there, we just have to get others interested.