As fall camp approaches so much has happened around the Bulldogs, and all of college football for that matter.
It seems Oregon State wants to be the college football team every young beaner aspires to play for. The Castores want to become America's "Hispanic" team. Since I' m beaner, and if I had to pick a college football team to be America's "beaner" team, I would choose San Diego State, for obvious reasons. New Mexico and UTEP wouldn't be too far behind, and I guess I would put Fresno State, and the agriculture based Green V, up there of potential "beaner" schools to root for.

Oklahoma's Bob Stoops must really "care" about his program because he just "kicked" his national title dreams, for this year and beyond, to the curb. I guess former Bulldog recruit Tommy Grady should have stuck it out in Norman.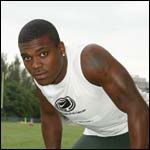 Miami backup linebacker Willie Williams wanted out of the Hurricane program and was rumored to be interested in Fresno State. Maybe he disagreed with coach Larry Coker's no gun policy and figured he would fit in at "felony state university" because of his 11 prior arrests

(I am aware he asked for his release before the Miami shooting incident)

. No school wanted the former No. 1 rated high school linebacker, and even Coker is contemplating taking him back and doesn't consider Williams a big deal.
"Willie Williams is not a factor, guys. He's not a factor. He's a third-team linebacker. Let's talk about the guys who are going to play."
Yet some Bulldog fans couldn't hold their wad about the idea of Williams becoming a Bulldog. Please, do Bulldog fans really want any more (garbage) baggage. Didn't the basketball program woes teach fans that a player, who has been in trouble with the law, is not the most ideal student to be a part of the university.
Another Miami player is supposedly flying the coup and, again,
is rumored
to be heading towards the valley.
Looks like Pat Hill will be getting another homesick valley football player, who just happened to be a 'Cane. ESPN 1430 announced on the radio that Clovis West's Chris Lewis, is heading home and will transfer to Fresno State.
Keep in mind folks, these are the same guys that were bad-mouthing Kansas State because they heard a rumor the Wildcats were backing out of their 2007 game, which of course is false.
ESPN 1430 is known to jump the gun, which is bad in my opinion. A media outlet that jumps the gun, really has no idea if their tip, rumor or source is legitimate, and often has egg on their face when it is all said and done, hence ESPN and K-State, or upset someone of importance involved with the story.
However, being the first to "break" the news is the goal if you are the media, but if the info is not confirmed, are you really "breaking" anything?
Hence, the day before signing day, ESPN 1430 was announcing to its listeners that Oregon commit, Jamel Hamler, was going to sign with Fresno State, based on a phone interview they had with Hamler. Granted, Hamler did change his mind from Oregon to Fresno State on signing day, but no one knew that but Hamler himself.
Even Hill, on the day before signing day, said Hamler had not committed to Fresno State and as far as he knew, Hamler was going to sign with Oregon. Well, as it turned out, Hamler's teammates and Bulldog commits, Nico Herron and Damion Owens, sat Hamler down on signing day and puts things in perspective for him. All three had planned on being Bulldogs early on in their senior year, but when Oregon came into the picture, Hamler's parents wanted him to explore the opportunity with the Pac 10 school.
Hamler liked Oregon, but more importantly his parents liked Oregon. On signing day, however, Herron and Owens asked Hamler where he wanted to go school, not where his parents wanted him to go, and who was is charged of his future. As he stepped to the stage, at his high school, to sign his letter of intent, Hamler unbuttoned his jacket to reveal a Fresno State T-shirt and signed with Fresno State.
Anyone other than Hamler, had no right or reason, to announce that he was going to sign with Fresno State until his pen touched paper. ESPN 1430 might have guessed right, but what if they had been wrong?
Imagine if you are a Bulldog WR recruit and Pat Hill tells you, in January, that his top WR prospect has de-committed to Oregon. You sign with Fresno State and spurn offers from other DIA schools. Then you hear on the radio, or from someone that heard on the radio, that Hamler, Fresno State's top WR prospect, will sign with the Bulldogs after all.
What would you be thinking? Did Coach Hill lie to me, am I just a ploy to get Hamler to sign? Maybe out of desperation, and pride, you call one of the other DIA coaches that recruited you, perhaps a classless one like Arizona State's Dirk Koetter. You tell him your situation and he says don't sign with Fresno State and sign with us, we won't lie to you and we'll take care of you.
Now on signing day, Hill is waiting by the fax machine, expecting to see a fax from you, his top WR recruit. It doesn't come, and Hamler's doesn't either. Hill was expecting Hamler's but was expecting yours. Hill then finds out you signed with Arizona State, amid rumors Hamler was going to sign with Fresno State instead of Oregon. Hill and Fresno State would be screwed because of irresponsible reporting by a media outlet.
I can say whatever I want on this blog because, it is what it is, a web log. Very few, if any, will consider my work a legitimate source because most don't have a clue who I am. After all this rambling, I can say, according to my sources, Chris Lewis is transferring to Fresno State. However, I will not believe it until I see it. Then, and only then, will I post an entry saying Lewis is definitely a Bulldog.