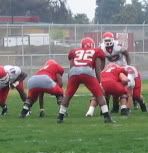 The sun was out, for once, and practice picked up its intensity from Monday. Dwayne Wright was back in full pads, but a couple of guys sat out of Wednesday's practice. Tyler Clutts, Adam McDowell, Chris Denham, James Paulk, Jake Jorde and Charles Tolbert were not in full pads for some reason or another.
James Meeks and Richard Pacheco stood out on the offensive line among the young guys. Pacheco is filling in for Cole Popovich's starting spot at guard all spring. Meeks is backing up Denham at RT, but is the program's future at the position, he is just a redshirt freshman. Chris Piligian is switching between tackle and guard. He is a solid contributor that has been unable to crack the starting lineup on a very deep unit.
Louis Leonard had a good day of practice. He blew through Ryan Wendell's block to make a huge tackle behind the line of scrimmage in a drill. Ikenna Ike was practicing some pass coverage in a solo drill. He is listed as a DT on the spring roster, but played DE last year. Ike has improved his game from last year, as well as, his strength. Jason Roberts has had some better practices. DL coach Kerry Locklin was getting on him quite a bit. Roberts is a pure pass rusher, but his run support could use tuning. Roberts and Marlon Brisco are in a heated battle for the starting spot opposite Clutts.
Didn't catch to much of the linebackers, but Dwayne Andrews and Pacheco got into a scuffle during a drill. It was settled on the field with the two going head to head, Andrews got the upper hand in that one, but Pacheco held his own.
Damon Jenkins still has yet to break through as a legitimate starting cornerback. His injury may have slowed his progress but Elgin Simmons has the edge as the starter for now. Safety Marvin Haynes looked very good in drills, exhibiting skills that could make him a very good corner prospect if needed. The group of redshirt freshmen walk-ons are working hard in practice, but this is still a very suspect group that may need the 2006 recruits to help bolster it.
The quarterback battle is just humming along. There were no long balls in practice today, but all three had decent days. If I had to pick one that stood out, I would have to say Ryan Colburn.
Frank Padilla and Isaac Kinter will add a very good diversity to the offense. Pat Hill has never had fullbacks with this much size, speed and hands. Both players will be viable options in games, but Padilla may redshirt if he can't make the travel roster, he is just a true freshman.
The receivers have had better days, but overall the practice was good.