Who's Gone: Adam Jennings, Jermaine Jamison, Devyn McDonald

Who's In: Paul Williams 6'2 200, Joe Fernandez 5'10 165, Bear Pascoe 6'5 260

Who's Riding the Pine: Marlin Moore 6' 170, Jason Crawley 6'2 170

Who to Look Out For: Phil Ghilarducci 6'4 210

Who Else Will See Time: Jaron Fairman 6'1 185, Chastin West 6'1 195, Seyi Ajirotutu 6'3 190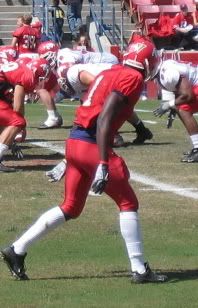 Fresno State has not had a true go-to receiver since Bernard Berrian in 2003. However, Fresno State didn't have a quarterback, that year, who could get the ball (in) to (stride) Berrian. Fans have to go back to 2001, for the last time Fresno State had a capable quarterback to go along with capable receivers.
Paul Pinegar had a great season, statistically, last year, but if Pat Hill and Steve Hagen let this year's sophomore quarterback loose, he could shatter Pinegar's 2005 numbers. How? Considering this year's quarterback will be "untested", well for one he will have a great offensive line protecting him, but more importantly he will have one of the best receiving corps in school history to play catch with.
This year in spring and summer workouts, the wide receivers are running crisper routes, breaking quicker, and actually finishing their patterns because they know when they turn around the ball is going to be there. That has not been the case since David Carr was slinging footballs around five years ago.
But all of the current Bulldog receivers were in high school when Carr was breaking school records left and (W) right. And 2001 is the only year; Fresno State has produced two 1,000 yard receivers, Berrian and Rodney Wright. That 2001 receiving group along with the 1993 bunch are arguably considered the best ever in Bulldog history.
But in my opinion, the 2006 group will be the best ever, as soon as the season is in the books. There is one big reason for my reasoning, and his name is Paul Williams. The senior is a consensus preseason all-WAC pick and most consider him one of the top 20-25 receivers in the nation.
There has never been a Bulldog receiver with size, strength, speed, and hands to wear. The closest is Henry Ellard, who set the NCAA records for receiving yards, touchdown receptions and yards per catch for aseason in 1982. The naysayers will say Williams' numbers don't back up the hype, but keep in mind Pinegar didn't have the arm to get Williams the ball deep or in stride.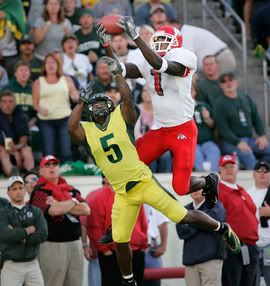 Williams took a good three years before he made his mark, but he left an everlasting impression, in his break out game, last year at Oregon. Now, with two quarterbacks who are able to throw the deep ball and one who can throw it on a line, Williams is poised to have a great year.
I compare Williams to Georgia Tech's Charles Johnson. Johnson's 2005 numbers are similar to Williams' 2005 numbers, but Johnson is considered by many, including myself, the best receiver in college football. Unfortunately for him, the diminutive Reggie Ball can't throw the ball very well.
Williams will see plenty of double coverage all year long, as I see few, if any college cornerbacks who can cover him man-to-man. The Bulldog's own Marcus McCauley can't even cover Williams, and he is arguably the top cornerback prospect for the 2007 NFL Draft.
This will open the door for the 'Dogs two underrated senior receivers, Joe Fernandez and Jaron Fairman. Fernandez has quietly led the Bulldogs in receiving the last two years, but unlike Williams, was not named to any preseason all-WAC teams. Even Phil Steele, who names four preseason all-WAC teams, didn't put Swervin' Mervin's kid on his list of all-WAC receivers.

Fernandez was money over the middle in 2005, and against USC, proved he is a clutch player. However, Fairman has yet to have a big year, number wise. He is quick, has great hands and, in my opinion, runs the best routes of any of the 'Dogs three senior receivers.
He is often remembered for his game tying, clutch catch against No. 18 Virginia in the 2004 MPC Computers Bowl. He is an excellent third option, but is also capable of being a starter and go-to guy.
Phil Ghilarducci signed with Oregon State in 2003, but after a redshirt year deciding to leave the Beaver program. After two years of hardship in the JUCO ranks, he has ended up at Fresno State.
The 6'4" 214 lb pound junior receiver benches 340 and reportedly ran a 4.4 forty while at Oregon State. He has tremendous agility and unbelievable hands. By the end of fall camp he could be pushing Fernandez and Fairman for the other starting spot opposite Williams.
Sophomore Kevin Ciccone was quarterback Sean Norton's go-to guy back in high school. Ciccone is not as big, or as fast, as the four above, but has the best intangibles of any Bulldog receiver. He will find a way to get open, and is the most experience receiver outside of the three seniors.
Fresno State has a bright future at receiver. They are being called the Fab Four, unofficially, and Chastin West, Seyi Ajirotutu, Jason Crawley and Marlin Moore are the best group of redshirt freshmen receivers since 1990.
Malcolm Seabron, Tydus Winans, Lee Harris and Michael Ross were the best class of wide receivers to sign with Fresno State. Ross was the program's first Superprep top 75 signee. The other three went on to the NFL, Seabron and Winans were drafted in the third round and Harris signed a free agent contract in 1994.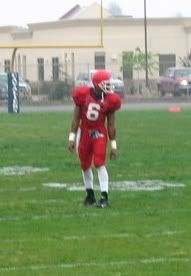 West is getting the most attention heading into fall because of his great performance in the spring game. He is a big, physical receiver that is also a great kick returner.
Ajirotutu has all the makings of a future star. He was expected to have a big spring, but an injury in the South Valley Scrimmage cut his spring short. At 6'3", he gives the 'Dogs another viable deep threat.
Crawley had a great spring. He was easily the most impressive wide receiver in a majority of the spring practices. However, he didn't have the best spring game. The former high school volleyball player possesses a 40" vertical jump, and has great speed to along with superb athleticism.
Moore, has been lost in the mix per se, and may move to the secondary to shore up potential depth problems on that side of the ball. But that is a testament to his versatility. He may not get a lot of playing time, but could be a significant contributor on special teams.
Bear Pascoe is expected to have a good year, despite preparing to play just his second season at tight end. The former quarterback needs to improve his pass catching, but there is no denying his force blocking for the run.
Backing him up are two good size athletes, Jesus Tapia and Drew Lubinsky. Unlike Pascoe, Tapia and Lubinsky are true tight ends. Tapia has struggled a bit and did not record his first catch, last year, until the Liberty Bowl.
Lubinsky has slowly developed into the team's best receiving target, but is still a ways from becoming the starter.
The X-factor is Isaac Kinter. I talked about Kinter as a fullback, but he spent a good part of spring ball practicing with the tight ends. He was a high school receiver, but was recruited as a linebacker. He is built very similar to Tulsa's Garrett Mills, who was a first team All-American last year.