This is the final installment of the fall camp preview. I know it is late and practice has already been closed, but I can't leave out the special teams.
Fresno State prides itself on special team play. Assistant head coach John Baxter is one of the, if not, best special teams coaches in college football today. Virginia Tech has longed been considered the premier special team unit in the nation year-in and year-out, but Fresno State is not too far behind Frank Beamer's Hokies.
The 'Dogs are among the best because the coaches do not regulate back ups or walk ons to play special teams. Fresno State plays its best players on special teams. Don't be surprised to see Paul Williams, or any other starter, racing down the field on punt coverage to make a tackle.
The kicking game has always been strong under Pat Hill and Baxter, and this year Fresno State may have its best kicker and punter combo in Bulldog history.
Sr. punter Mike Lingua has been the starter since his freshman year. He doesn't have a booming leg per se, but he has incredible hang time. Fresno State has allowed the fewest net punt return yards in the nation the last two years. The 'Dogs have allowed less than 100 yards combined in the last two years.
Lingua will not lead the WAC in punting average but he should lead the nation again in net punt return yards.
Jr. Clint Stitser is one of the best kickers in the nation despite just playing one-half season in his college career. He has one of the strongest legs in the nation, and is practically automatic inside of 45 yards.
He missed half of last year with a season ending injury, but has shown no signs of the injury this preseason. In fact, he looks better than ever. He is a huge weapon the 'Dogs lacked the second half of 2005.
Jr. Clifton Smith is the most electrifying players ever to play at Fresno State. He has seven career punt returns, four of those have been returned for more than 60 yards and three of those went for touchdowns. He was expected to replace all-WAC KR Adam Jennings this year, but he is not 100% and could miss all of 2006.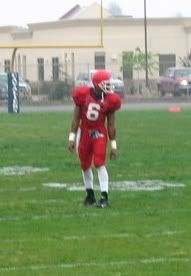 Not too worry, Sr. Joe Fernandez returned a punt for touchdown last season and was great in spot duty covering for Jennings. But he will have to fend off hot shot rFr. Chastin West.
West had a great spring and is having an even better fall camp thus far. He is the biggest and strongest kick returner Fresno State has had since David Dunn in 1994.
At 6-1 200, West still has great speed and has great field presence for just a freshman. The 'Dogs always have great kick returners and West looks like the next great one.