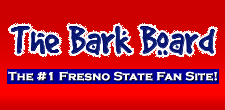 Aaron M****** has resigned as publisher of the Scout.com Fresno State fan site, the
Bark Board
, and I have been asked to become the new publisher. I will be devoting a lot of my time to the Bark Board, but I will try to add as much as I can to the blog as well.
In all, a majority of my content will be available on the Bark Board and my opinions will be found on the blog. I have also added NSC and fsufever as contributors to the blog. If you have any tips, ideas or would like to contribute to the blog,
drop me a line.
I would like to thank all the readers of the blog and if you haven't already, please visit the
Bark Board
, the No. 1 Fresno State site.