It has been about a week since I wrote the last one, and fall camp is already 10 days old, but oh well.
Cornerbacks
This is easily the position on the team that lacks the most depth, in terms of numbers. Sr. Marcus McCauley is one of the best cornerbacks in the nation and has started since the end of his freshman year. Now, just imagine if Richard Marshall would not have left early for the NFL? The Bulldogs would arguably have the best CB duo in the nation.
However, Marshall is gone and the CB opposite McCauley will be someone who has never started a game in his career.
Sr. Elgin Simmons is one of the fastest players on the team, but has only played in spot duty the last three seasons. And despite having to battle former all-state De La Salle prep, jr. Damon Jenkins, Simmons has solidified his spot opposite McCauley.
Jenkins has better size and talent, but it hasn't translated on the field. He still has a chance to beat out Simmons in August, but his window of opportunity is closing fast.
True freshman Damion Owens was touted by Pat Hill as being a player that could play his first year. Thus far in camp he has not disappointed and could be the team's No. 3 cornerback before camp ends.
AJ Jefferson is another true freshman, but he is just a bit rawer than Owens. Jefferson would be better suited to redshirt, but could play if needed.
Fr. Jay Reddick, Sr. Keelen Kennedy, Fr. Jason Blackmon, and Jr. Will Harding round the cornerbacks, and are not likely to log too much time on the field.
McCauley will lock down one side of the field, that is a given. Simmons, despite his lack of height, was able to contain Paul Williams the other night at the scrimmage, quite well. Simmons only problem will be in the end zone defending timing routes or fades, against a taller receiver.
Owens is proving to be a solid player and along with Jenkins give the 'Dogs a solid quartet. However, if any injuries arise, this position will surely suffer.
Safeties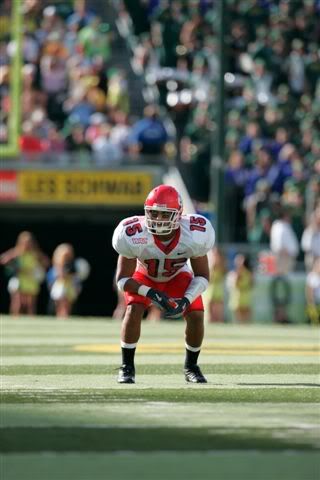 Unlike cornerback, Fresno State is loaded at safety. Like the cornerbacks, the two projected starters at safety will be seniors, FS Vince Mays and SS Josh Sherley. Pushing them will be a couple of very talented rFr., FS Marvin Haynes and SS Moses Harris.
In fact Harris played with the first team defense in this week's past scrimmage for the injured Sherley. His play has prompted many fans to beg question, why can't Harris start over Sherley?
Many point to Sherley's poor pass coverage as the reason. Well, Sherley did get beat a few times last year, but so did Marshall, especially against Oregon, did anyone call more Awan Diles or Ray Washington to replace Marshall? No, because Marshall was the better player and was just being very aggressive.
Harris is talented, but Sherley is the experienced starter and after a good spring he is destined for a great year. He beat out the very talented Mays last year to replace NFL pick James Sanders at SS and his play will improve from last year.
Speaking of Mays, he is finally living up to his 4 star billing coming out of high school. He had a good spring and is continuing his great play in August.
Harris and Haynes are the future and both will play significant time in 2006 before taking over their respective starting spots in 2007.
So. FS Jake Jorde can play both safety spots if needed. He is a converted wide receiver, has excellent size and decent speed.
True freshman SS Lorne Bell has been compared to Sanders by Hill and has been showing signs of greatness during the first week of camp. Hill would like to redshirt him, but Bell could play, especially if injuries become a problem.
Jr. FS Brian Gridiron is deep on the depth chart and will likely be regulated to mop up spot duty.
Mays and Sherley are a deadly safety combination. Mays is capable of covering the entire field and make plays when needed. Sherley is a tough, aggressive hitter that will make receivers pay for coming over the middle. The two have battled the last three seasons at SS, but now, both will be starting for the first time together. Sherley has a good shot to make all-WAC with a good senior year.
Harris, Haynes, and Jorde provide quality depth, as each could fill in and make a somewhat seamless transition. I could add Bell to that list, but he is just true.