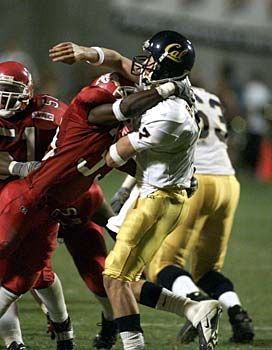 Fresno State fans have been chomping on the bit for the shot to play BCS opponents inside of Bulldog Stadium since 2003. Since Pat Hill's arrival in 1997 there have only been four games against BCS teams, and two were against Oregon State (2001 and 2003). The other two were Baylor in 1997 and California in 2000. What compound the issue are the BCS teams that have backed out of their commitment to come to Fresno.
Texas Tech and Oklahoma State are hated teams by Bulldog fans. Both schools changed their
return
date to Fresno multiple times and eventually cancelled the game. These schools can't be blamed solely. Maybe if former AD Scott Johnson was competent, and kept his hands off of women's basketball, these schools wouldn't have backed out or the cost to cancel the game would have been too great. Regardless, Bulldog fans are itching to get their claws on a BCS team at home.
Oregon returns to Fresno State for the first time in 10 years this season, and it is easily the most hyped home game since 10th ranked Oregon State visited in 2001. The Ducks are the first of four BCS team that will visit Fresno in the next four years. Kansas State is slated to visit next season, Wisconsin in 2008 and Kansas in 2009. Bulldog fans are relieved Oregon is making the trip since the two other Pac 10 teams that have visited Fresno have vowed not to return in the near future because of stadium and fan issues, among other things(like getting beat). However, Kansas State, Wisconsin and Kansas coming to Fresno
might
be a different story.
Kansas State's long time coach Bill Snyder has retired and in his place in 36 year-old Ron Prince. Snyder was synonymous for scheduling pasties in out of conference, but towards his later years USC, Cal, Marshall and Fresno State were some of teams that peppered the schedule. Luckily for Fresno State, Prince is going to do him one better. He wants to make playing big-name teams
the rule, not the exception
:
K-STATE IS CONTINUING its quest to find high-profile non-conference football foes. The Wildcats are discussing possible home-and-home series with a number of power-conference programs......Although Prince wouldn't name big-name programs on his radar, he did say playing such teams will be the rule, not the exception. K-State will battle Louisville and Marshall this season and Fresno State next season....

"It is a fine line you're walking, but I'd like to play a very competitive non-conference game or two every single year," he said.

"When I say very competitive, I mean a top-caliber team, a team that by reputation doesn't need any explanation."
Wisconsin's long time coach Barry Alvarez retired last season, as well, but will remain the Badger's Athletic Director.
Wisconsin released its future schedules
, back in February, with Fresno State (2008, 2009), thus solidifying the Badgers commitment to visit Fresno. That only leaves the Jayhawks. Kansas has not gotten out on the right foot with Bulldog fans. The Jayhawk coach Mark Mangino wanted to dumb down his non-conference schedule last year and asked to move their trip to Fresno from last year to 2009. The only problem is Fresno State has to travel to Lawrence, Kansas in 2007.
The FS-Kansas series is the only home and home series with a BCS school Fresno State has on the table. Wisconsin, Kansas State, and Oregon are all two for ones contracts. Hopefully, AD Thomas Boeh can work some magic and get the Jayhawks to come to Fresno in 2007 and the 'Dog will travel to Lawrence, for the return game, in 2009. That will allow Fresno State to pursue away games at Tennessee and/or Georgia without having to reduce the number of home games for the Bulldogs.
Fresno State has the chance to have seven home games for the first time since 1994. It could happen two different ways, one, Kansas comes to Fresno along with Kansas State, a IAA team and the four WAC home games, or FS skips games against UGA and UT but KU is still an away game, schedules home games with two IAA teams(or IA pasties) along with Kansas State and the four WAC games.
Fresno State's 2007 Schedule
Sept. 8 at Kansas
Sept. 15 at Oregon
Sept. 22 Kansas State
at Nevada
Utah State
at Hawaii*
Boise State
at New Mexico State
at Idaho
Louisiana Tech
San Jose State
2 non-conference games open

*- game at Hawaii allows FS to schedule a 13th game