2006 should be a good year for the WAC as the top four teams have a great shot at pulling this conference from its mediocre status it currently is viewed as having. Boise, Fresno, Nevada, and Hawaii should all have successful seasons while helping to clear the WAC of any thoughts that they cannot play with the bigger teams in the nation. Without further adieu here is my predicted finish for the WAC in 2006 followed by team breakdowns from the top (Boise State) to the bottom (New Mexico State).
2006 Predicted Finish

1) Boise State
2) Fresno State
3) Hawaii
4) Nevada
5) Louisiana Tech
6) San Jose State
7) Idaho
8) Utah State
9) New Mexico State
1) Boise State
- Any team returning 20 starters has to like their chances going into the season. Any Boise State team returning 20 starters has to like their chances of going undefeated. Boise has the most favorable schedule of all WAC teams this season as they draw Fresno State, La. Tech, and Hawaii at home leaving Nevada on the road as their only competitive WAC road game. However, Boise seems to show Nevada who runs the conference yearly and I don't see 2006 being any different.
Keys to Success
- First and foremost Jared Zabransky has to have a solid senior season. While Boise State has a great running game last year's season opener at Georgia showed that Zabransky is as important to this team as any one player is. Boise's offense will be strong as their offensive coordinator, Chris Peterson, is now their head coach. I don't see this team losing anything with the departure of Dan Brown to Colorado. Boise is only returning one RB, sophomore Ian Johnson, meaning Zabransky's role on this team is going to be even more vital than in year's prior. They will need him to take this team to the next level much as he did as a sophomore in 2004. Boise will play enough defense to give their team a chance to win every game. They have a solid defensive front which returns three starters. Overall Boise State should be a solid team with a chance to make some noise in the BCS picture.
Predicted Finish
- Boise State will win the WAC unless someone steps up and takes it from them. I feel Boise State will lose one game at most this season. Their only real tests will be Fresno, Hawaii, and Oregon State at home and Wyoming and Nevada on the road. There is a chance for a slip up against Wyoming but I just don't see it happening. Look for another strong season from Boise with the possibility of an 11-1 or 12-0 finish in their sights.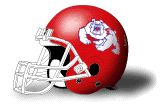 2) Fresno State
- Fresno State's schedule is not nearly as generous as Boise State's this season and that is one of the many reasons that I believe Fresno will not take home the WAC title. They have a chance to tie for it if they can go into Boise and knock the Broncos off on the blue turf, but realistically that is much easier said than done. Paul Pinegar is gone and for many Bulldog fans that can only make the team better. Fresno returns 16 starters, but lost players to key positions. How the Bulldogs adapt to a new QB, while replacing Wendell Mathis at RB, Garrett McIntyre at DE, and Richard Marshall at CB will tell how far this team can truly go this season.
Keys to Success
- Fresno is going to have to rely on an inexperienced QB for the first time in four years. It will either be the speedy Sean Norton or the strong armed Tom Brandstater taking over the starting position. With Dwayne Wright and Clifton Smith being healthy this season the QB will only have to minimize mistakes to make this team successful. The new QB will also have a healthy fullback in Roshon Vercher and great wide receivers in Paul Williams, Joe Fernandez, and Jaron Fairman. If the new QB can avoid the fourth quarter collapses that Paul Pinegar showed so often, Fresno State will enjoy a successful season.
Predicted Finish
- Fresno State very well may have the hardest schedule in their history. With games against Oregon, Washington, LSU, Colorado State, Boise State, Nevada, Hawaii, and La. Tech the schedule leaves very little room for error. If Fresno can run off the first six games of the season they will have a legitimate shot at a BCS game even with a loss to LSU. However, that means they must beat Boise on their home turf in order to qualify for a BCS game. I just don't see Fresno doing that this season with such a young QB running the team. Look for an 8-4 or 9-3 finish with losses to Boise, LSU, Oregon, and someone in the WAC they shouldn't lose to.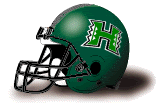 3) Hawaii
- Hawaii may have the best offense in the nation this season. They will score 40+ points per game without many problems. Colt Brennan is the best QB in the WAC hands down. He is a junior and has more weapons on his team than any other WAC offense. It helps that Hawaii runs a spread offense with four to five wide receivers on every play. Hawaii also has a very strong running game with Nate LLaoa averaging over seven yards per carry in 2005. How far Hawaii will go will depend on its defense though, and not what the offense does.
Keys to Success
- Defense. It's that easy for Hawaii. With Brennan, Ryan Grice-Mullin, and Davone Bess on offense the defense will only have to be decent to win games. The defense could conceivably give up 30 points a game and Hawaii will still win a majority of their games.
Predicted Finish
- Hawaii does a great job scheduling year after year as they are able to get their big out of conference games at the end of the season and at home for that matter. This year they open up with Alabama on the road but do not be surprised if they figure out a way to challenge Bama. Unfortunately with respect to the WAC Hawaii is on the road against both Boise and Fresno. Look for Hawaii to finish with a very similar record to Fresno as long as they play some type of defense. The game in Fresno between these two teams might decide who finishes higher up on the WAC scale this season. Look for a record somewhere in the range of 9-4.
4) Nevada
- I realize I might take some heat for putting the division winner in the four spot this season, but what everyone must understand is the top four teams in the division are as equal as I can ever remember. Jeff Rowe is right behind Colt Brennan with respect to talent and ability in the WAC. Nevada will make some noise in the WAC with their modified spread offense they run which allows Rowe to roll out from side to side on the field giving him more time to find his speedy receivers. Nevada should be a strong team this season and if they can get through their first four games with one loss they have a shot to end the season in the top 25.
Keys to Success
- Much like last season Nevada will have to spread the defenses thin in order to be successful. Against Fresno last season Nevada spread the defense so thin they were able to run up the middle with ease. Nevada will attack early and often with their senior QB who should put up astronomical numbers in the Wolfpack offense. Nevada is similar to Hawaii in the sense that their defense only has to play decent in order for them to win games. Nevada will score 30+ points a game and it will come down to their defense in the fourth quarter with respect to them winning and losing close games.
Predicted Finish
- Nevada begins the season with two tough games at Fresno State and Arizona State. From there the schedule becomes very favorable. Nevada has to ravel to both Hawaii and La. Tech this season, both of those games should be WAC classics. If Nevada can win the game in Fresno or Arizona State look for them to reel off four or five games in a row and challenge for the WAC's top spot as they finish the season with Boise at home. Look for Nevada to finish with a 7-5 or 8-4 record as their schedule just looks to tough for what they have returning this season.
I will cover the final five teams in the WAC tomorrow as they present very little threat to the top four teams in this conference.
-NSC