I have read four preseason previews (Lindys, TSN, Athlon and Phil Steele) and only one points to the positives of the team instead of focusing on the negatives, and that is Phil Steele's. Let's point to the obvious question marks for the upcoming season: 1. Quarterback, 2. Running Back, 3. Left Tackle, 4. Cornerback, and 5. Garrett McIntyre.
1. Quarterback
- Ok Paul Pinegar is gone, big freakin deal. After Billy Volek left David Carr stepped in for the irreplaceable Volek. Carr was hyped by Pat Hill as a QB that could play on Sundays, but besides having a cannon for an arm, he was an unproven commodity. I am not saying Tom Brandstater or Sean Norton is Carr-like, but what I am saying is, Pinegar is not Volek-like. He is replaceable. Pinegar was never a quarterback that could carry the team on his back and lead them to victory. Steele points out an interesting stat:
...in a stretch of the final six games in '04 and the first 6 of '05, Fresno avg'd 48.3 ppg but Pinegar topped 200 yds passing just 4 times and one of those was a loss(418 pass in 3pt loss to Oregon) as the team was.......

Anybody want to guess how many yards Pinegar passed for against USC, Nevada and Louisiana Tech? 317, 405 and 358, respectively. In short Hill's teams do better when it leads with the run, which leads me to No.........
2. Running Back
- Who is Fresno State's leading returning rusher from 2005? WR Paul Williams (9 carries for 83 yards), you see how that can scare just the average college football beat writer. Wendell Mathis and Bryson Sumlin were the most productive running back duo over a two year stretch in Bulldog history. However, neither one was able to beat out Dwayne Wright in August of 2004. Wright has missed nearly two years of game time and most preseason pubs have written him off per se, but I have seen him in person, as well as, numerous other Bulldog fans have. The guy is bigger and stronger than ever. There is little or no sign of injury.
The preseason pubs have either Clifton Smith or Shannon Dorsey listed as Wright's backup. These two juniors have less than a 50 yards combined rushing between them in their career. See how that can scare the average college football beat writer? But I have seen Smith make defenders look silly trying to tackle him on a punt return, and I saw him tear it up at the ET back in high school. (That is Edison Tigers for you non-ET people). Dorsey has been hobbled all three of his years in the program. But the scrawny redshirt running back from 2003 is gone. Dorsey has bulked up and that is a huge understatement. He had a terrible spring game, just 8 carries for 12 yards, but he had a good spring overall. He can carry the load if needed.
In 1998 Hill turned a former walk on fullback, Jamie Kimbrough, into the WAC's Pacific Division Offensive Player of the Year. And Kimbrough was running behind a bunch of redshirt freshman linemen, and a few left over Jim Sweeney recruits, that year. Walk-ons Rich Owens, Andrew Jones, and Kreig Peters are all capable of producing decent numbers in Hill's scheme. And each one will have the luxury of running behind one of the top offensive lines in the nation.
Need I mention, Lonyae Miller? Most preseason pubs use recruiting services to rate the incoming classes for their publication. Even Phil Steele, who write all of his college football previews and rates all of his players based on accurate numbers and stats, uses numerous recruiting services to rate the incoming players. That is why Steele will rate Miller the No. 54 incoming freshman RB, but at the same time, will not expect Miller to contribute as a true. Anyone who say Miller in the recruiting video (link on sidebar), knows this cat has a second gear (and 3rd) and is physically ready to play DIA football. Steele has a tendency to expect great things out of great players who were injured, like Wright, or were highly recruited like......
3. Left Tackle
- James Paulk. The JUCO transfer is the highest rated recruit Hill has signed since Donyell Booker in 2003. However, Paulk looks to have taken a page out of Booker's book of practice habits. He is lazy. I'll admit I only saw Paulk practice a little over a week, because he sat out the rest of spring because of transfer issues. But in that week he was unimpressive. He was slow, out of shape and over weight. Hopefully, he will participate in summer workouts and be ready to battle Bobby Lepori and Adam McDowell in August.
Lepori took hold of the left tackle spot in spring, but McDowell looked very good in spring, as well. McDowell has made the switch back to offense from defensive end and has added a good 20 lbs of bulk and muscle. Hill is favoring smaller athletic linemen compared to the bulkier linemen in his earlier years. McDowell, at 6-5 270, fits Hill's new lineman mold. Too bad there is no one in the mold of.....
4. Cornerback
- Richard Marshall. Steele doesn't seem too worried about the cornerback problem and TSN even thinks the Bulldog secondary is among the top 20 in the nation. Steele even goes as far to rank every projected Bulldog DB starter in his four all-WAC teams. He is expecting big things from very highly touted recruits, Vince Mays and Damon Jenkins. Although there is great potential, I still have my doubts. Jenkins is a former all-state standout out of De La Salle. He is the first Spartan, I believe, to have signed with Fresno State and was the last Prop 48 recruit signed by Fresno State. If he had qualified academically he would have been a USC Trojan. So what is the deal? Why hasn't Jenkins freakin developed into this awesome shutdown cover corner. His first two years he had to contend with Marshall and Marcus McCauley, but what is his excuse for this past spring? Injuries? Jenkins is soft, in my opinion. He has every physical and tangible talent known to man, but he just does not have the heart, yet, to be a Bulldog cornerback. Now, what is harder to obtain, pure physical talent or the desire to **** out of someone on the gridiron?
If Jenkins does step up his game real quick, Hill has no qualms about playing true freshmen Damion Owens and AJ Jefferson. Jefferson reminds Hill of McCauley, but AJ needs to redshirt and hit the weight room. Owens, on the other hand, is ready to play in my opinion. He is a far better prospect than Boise State's true freshman starter Orlando Scandrick was last year.
Having McCauley at the other cornerback position eases my worries somewhat. But........it's kind of like letting your grandmother walk freely in Eastside Fresno sporting a blue bandana, but having some relief knowing she's packin'. You just hope she is quick enough to react and not get smoked herself. You know who else scares me as much as a grandmother carrying a loaded gun......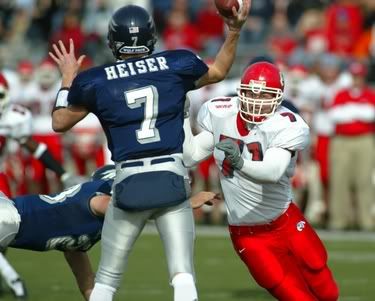 5. Garrett McIntyre
- The ball of nails has left the building. It is a shame Big Mac was cut from the Seattle Seahawks because his motor is irreplaceable. Bulldog fans saw this former walk-on develop into the WAC Defensive Player of the Year. He wasn't the most talented guy on the field, but his motor was irreplaceable. Let me say it again, his motor is IR-RE-PLACE-A-BLE. So let's stop worrying about replacing it and focus on all the freakin talent that is on the 2006 defensive line.
The rotation could go 12 deep. I have said before and I will say it again, McIntyre's absence is a blessing in disguise. He was a better DT than he was a DE. But as a DT, that meant either Louis Leonard or Jason Shirley had to sit on the bench. He lacked speed to be an effective DE, but his motor was.... Jason Roberts and Mike Stuart are taller, faster, and more athletic than any other DE that Hill has ever had in his 10 years at Fresno State.
Junior DE Tyler Clutts is a near unanimous first team all-WAC pick by all the preseason magazines and is deservedly so. Clutts is a relentless pass rusher and has gotten bigger but has not lost his quickness. And senior DE Marlon Brisco was still able to hold off Roberts in the spring. Backup DT's Jon Monga and Kenny Avon had decent springs. This unit is by far Hill's deepest in his 10 years and very well could be his best defensive line ever.
In short I am looking forward to the season and I am expecting the 'Dogs to win at least 9 games and take home a piece of the WAC title. Hey, when you least expect it, a dog can bite you in the ass.