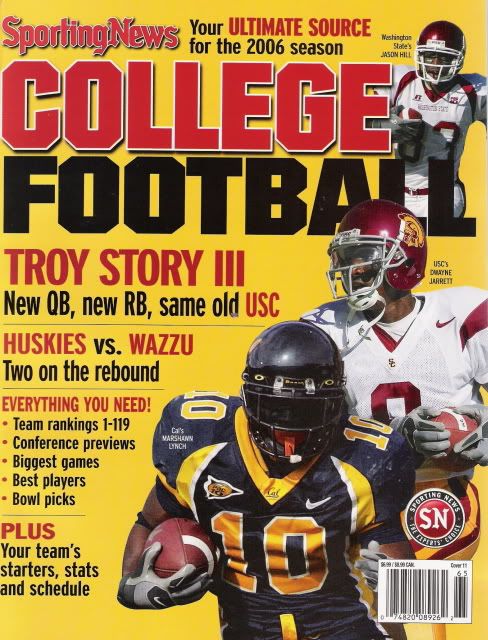 The Sporting News College Football Yearbook has always been my favorite of all the preseason college football magazines. However, the one thing I hate about it is the fact that regional beat writers write the conference previews. The WAC preview was written by Chadd Cripe of the Idaho Statesman, Boise paper, not Moscow. He does a fine job, but his analysis of FS's defensive philosophy needs an added note:
Coordinator Dan Brown's athletic units attack quarterbacks and plays strong pass defense. The weakness, if there is one, is the run defense. The Bulldogs allowed 21 rushing touchdowns last season.
There should be an * next to last sentence. 14 of those 21 touchdowns were scored after WLB Marcus Riley went down with a season ending injury against USC. How important do I think Riley is too the defense, well that is his grill on the banner atop the webpage and is by far the most underrated LB in the WAC.
Anyways, Cripe did a decent job for his first time tackling the entire WAC. The last few years the Fresno Bee's Marek Warszawski wrote about half of TSN's WAC previews, including Fresno State's. Now, I don't know if Cripe is the one that picked the all-WAC team or not but one omission just irks me. Last month
I complained
that Hawaii's Samson Satele was not named to the TSN preseason all-WAC team, considering he was an all-WAC guard last season and among the best in nation. But, I was not aware he made the switch to center and that is where I am confused by TSN's national player rankings and preseason all-conference teams.
In their national position rankings Fresno State's Kyle Young is ranked the 5th best center in the nation. Ahead of him at No. 1 and 2 are the usual suspects, West Virginia's Dan Mosez and USC's Ryan Kalil, respectively. No. 4 is NC State's Leroy Harris, but No. 3 is the most puzzling, it's Satele. Satele is a guard making the move to center, a position he is not familiar with. He is, in my opinion, of the top three or four guards in the nation but I have never seen him play center. TSN believes he is the No. 3 center in the country ranked ahead of three-year starter, 2005 first team all-WAC center Young, but is not good enough to make the TSN preseason all-WAC team as either a center or guard.
Satele is monster on the line, so maybe TSN wants to recognize him as such, but as the No. 3 center in nation. It is a new position for him, and I guarantee he will not be as good as Young. The same can be said if Young made the switch to guard, Satele is by far the better guard. This kind preseason bullshit just irks me. I wonder where TSN would have ranked Young if he made the switch to tackle in the spring. I guarantee he would not have been rated among the 20 best in the nation. And I would have not had a problem with it. Young is freaking best in the middle but as tackle he would need time to adjust. Satele very well may be a better center, but I feel preseason pubs should rank on talent as of, not of what you expect it to be. If that was the case, then handful incoming high school all-Americans should be ranked among the best in the nation.
Here is another issue that irks me........ If you ask any diehard Bulldog fan what unit of the defense he/she is worried about, more than likely the answer would be, the secondary. However, TSN thinks FS's secondary is among the top 20 in the nation, huh? (TSN's also ranks Boise State's as the 9th best in the nation, exactly WTF are they smoking?) The Bulldogs lose two NFL draft picks and have only three scholarship cornerbacks heading into fall camp.
Maybe TSN thinks very highly of CB Marcus McCauley? After all, TSN rated Richard Marshall the 8th best CB in last year's CFB yearbook. And if anyone saw a majority of Bulldog games last season, would have seen McCauley more than held his own, and could have easily been considered better than Marshall. Yet, TSN doesn't even rank McCauley among its top 20 cornerbacks in the nation this year. WTF? How is that possible? McCauley is bigger and apparently faster than Marshall. He is a vicious hitter and blankets any receiver he is covering. This MoFo will be a top 10 pick in next year's draft if he stays healthy.
The only other returning starter in the Bulldog secondary is strong safety Josh Sherley. Sherley did well last season and had a great spring, but will be in a battle in the fall to keep redshirt freshman Moses Harris off the field. Free safety Vince Mays had a kick-ass spring too, but the senior has never started a game. The other cornerback spot will be manned by either an untested senior (Elgin Simmons), a former all-state stud turned college bust (Damon Jenkins) or by a true freshman (Damion Owens or AJ Jefferson). TSN either has a lot of faith in the new guys or are simply ranking the 'Dogs solely on reputation. Because the secondary will be a concern all the way until it plays in its first game against the pass-happy Nevada Wolfpack September 1.
After I read the entire preview, I am sure I will find more quandaries, but it still my favorite preseason magazine.