Bullard's Kenny Hendrington, Buchanan's Taylor Smith and Sunnyside's Will Smith all signed with Fresno State back in February and all will play tonight in the City/County All-Star Game at Sunnyside High School. High school all-star games have fallen by the wayside in recent years because most college bound athletes rather not risk injury and often skip these types of games.
If I am not mistaken these kids play football, the most physical and dangerous sport at the high school level. There is always a chance to get hurt, but there is always the chance you can get hurt in your daily life. High school kids do stupid things. It was not too long ago I was in high school, and I did a lot of stupid shit. But it doesn't stop there, even grown men make stupid decisions. Just ask Ben Roethlisberger how easy it is to get hurt by making stupid decisions, playing in a high school all-star game is not a stupid decision. Come on, it is not like these kids are asked to play in a backyard tackle football game without helmets. In fact three of the high profile players in this year's city-county game have decided not to play to avoid the risk of getting hurt. I just have one thing to say, pussies!
Clovis West's Chris Lewis chose Miami over Fresno State back in February. He will not play in tonight's game and instead will focus on getting ready for fall camp. Bullard's Anthony McCoy was never interested in Fresno State and signed with USC. He had shoulder surgery back in January and says he is only 90%. If he was 100%, he said he would play. Clovis East's Tracy Slocum has fully recovered from his broken leg he suffered last fall, but was pulled from the game at the request of his grandfather.
Of the three Slocum could have benefited the most from the game. He will enter Cal this year deep on the depth chart. Slocum was a highly regarded prospect based on his great junior season, but he missed most of last year. In my opinion, a great all-star game performance would have done wonders for him.
Any high school football player can get injured from the end of the season until the start of their respective college fall camp. Sometimes college coaches secretly, or not so secretly, tell their recruits not to play in all-star games. Honestly, none of the three highly regarded players will likely play their first year of college anyways. So why be soft? Get on the freakin field and hit somebody.
Unless, Lewis converts to middle linebacker, more than likely he will redshirt at Miami. The 'Canes loaded at OLB, and Lewis is too small to play DE. Middle linebacker is Miami's only weak spot on defense and the only spot a true freshman has a chance to start.
McCoy was recruited as a tight end, but more than likely will be a DE in college. USC lost a ton of talent on offense, including tight end, but Fred Davis is the future start at TE. USC will have one of the best front sevens in nation; McCoy will only get a chance if USC is riddled with defensive injuries once again this year.
Slocum is destined for the pine. Cal has the most potent running back tandem in the nation in Marshawn Lynch and Justin Forsett. Speedy Marcus O'Keith could start for most teams and he is third on the depth chart. If that is not enough Cal signed Parade all-American James Montgomery and Crenshaw star RB/FB R.J. Garrett in February, as well. Slocum will be lost just trying to keep up with the pace.
The Fresno State signees are not expected to be freshmen starters or contributors, but even if they were, there is no reason to think that they would not play in tonight's game. Pat Hill recruits a certain type of player for his program. He often will not go after the blue chip recruit but sign the under the radar prospect that works harder. The three local Fresno-area players Hill signed might even grayshirt. It is not a secret Hill might have to grayshirt some of his incoming recruits and Fresno area kids are the easiest to grayshirt. Last year, Visalia CVC's Ryan Colburn and Clovis East's Frank Padilla were grayshirts.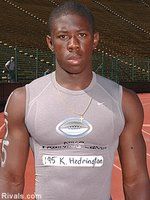 Hendrington had a great senior year and is the real deal. His position at Fresno State could be tailback or defensive back. He will benefit from a year of redshirting considering the talent ahead of him at tailback. However, he could contribute immediately at cornerback if he can make the transition in fall camp.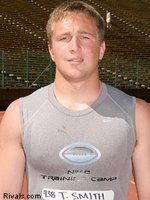 Taylor Smith was rated the No. 37 weakside DE in nation by rivals.com. He had off-season surgery but has recovered enough to play in tonight's game. Defensive end is the deepest position Fresno State has on the defensive side of the ball this year. Smith could play outside linebacker but would benefit from a redshirt.
Will Smith has the most potential of any of the recruits Hill signed this year. Smith is a phenomenal athlete that excelled on the gridiron and on the track. Within a couple of years, there might not be a faster or stronger linebacker on Fresno State's roster. With that said, he would benefit significantly from a redshirt year.