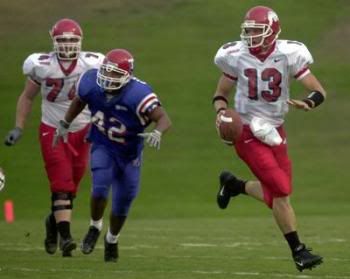 Paul Pinegar's career as a Fresno State quarterback is sort of an enigma. He joined Kevin Sweeney as only the second Bulldog quarterback to pass for over 10,000 yards, he broke David Carr's career record of 69 touchdown passes, he is the only quarterback in school history to have started in four bowl games, and is the only quarterback to have won more than two. However, Pinegar leaves Fresno State as one of the most despised players in Bulldog history.
He came to Fresno State in 2000 as somewhat of a risky unheralded recruit and grayshirted. His high school senior season was cut short by injury and that caused many colleges to stop recruiting him. There was a very good chance Pinegar would have been an Oregon Duck instead of a Bulldog. He faced an uphill battle at Fresno State playing behind David Carr as a redshirt and eventually being pegged as Jeff Grady's backup in 2002. He faces another uphill battle trying to earn a roster spot with the Jacksonville Jaguars, yet he still get the chance to
chase his NFL dream
.
So why was Pinegar so disliked? He was not hated per se, by all fans, but there was a significant faction of Pinegar naysayers. Every game the Bulldogs fell short, Pinegar was to blame. Was it really his fault? Pinegar had a great freshman year in 2002, capped by a gritty performance against Georgia Tech in the Silicon Valley Football Classic. But a mysterious injury in the summer of 2003 will forever haunt Bulldog fans. In August of 2003 Pinegar tore a chest muscle, it was not considered severe at first but he eventually missed the first six games of the year.
He was involved in a single-car accident July 7, 2003 with teammate Bryce McGill, an incident
that wasn't believed to be the cause of the injury
. Pinegar later threw without pain during the first week of training camp, including an Aug. 13 scrimmage. Pinegar initially said the second-degree tear (third-degree is the worst) could have been from overuse. Hill theorized Pinegar took a hit from a helmet during practice.
"The hard part about it is we don't really know when or how he got it," Hill said.
"There aren't any answers."
Well after three years of play that didn't match his freshman all-American season of 2002, most fans are smart enough to point to this mysterious injury as the start of his decline. McGill was arrested for DUI and charged with a misdemeanor for the single car accident. He was not injured and neither was Pinegar, as reported by the California Highway Patrol. I am not trying to insinuate anything, but if Pinegar had been injured, McGill's misdemeanor would have been a felony charge more than likely.
This injury has been a hot topic among Bulldog fans for the last two plus years. Did he first injure his pectoral muscle in the car accident or not? After Pinegar came back in midseason of 2003 he was not the same. He even said he didn't have the same confidence in his arm. If Grady had been a more capable and durable quarterback, then I highly doubt Pinegar would have played in 2003. Was Pinegar forced into play because FS didn't have sufficient depth at quarterback?
It was obvious Pinegar's arm would tire in the second half of games? In fact, in the 2003 SVFC vs. UCLA, he only attempted four passes in the second half. The 2004 season started with a bang, and Pinegar had his best game in nearly two years against Kansas State. Despite throwing two interceptions, many fans felt Pinegar had recovered from his wows. It didn't last long. Just two games later, against Louisiana Tech, he had his worst game of his career, and began his signature untimely interception in close games. He had begun the worst midseason slump in the history of Bulldog quarterbacks. He finally shook it off per se, and led FS to six straight wins and a capped it off with his best game ever, against No. 18 ranked Virginia in the MPC Computers Bowl. Pinegar completed 23 of 36 for 235 yards and threw for a career best five touchdowns, including the game winner.
2005 started just like 2004 ended, Pinegar was near flawless his first two games against Weber State and Oregon. Yet, against the Ducks he showed signs of poor arm strength down the stretch of the game. The next week against Toledo, he threw for a career low 69 yards. He did finish the season with arguably the second best statistical season by a Bulldog quarterback, but it will forever be tainted by untimely interceptions against USC and Louisiana Tech.
Pinegar, other than Grady, was the only Bulldog quarterback to start and play under now departed offensive coordinator Frank Cignetti. One of the reasons Hill stuck with Pinegar during his slump of 2004, was because no other quarterback was capable of running Cignetti's complex pro-style offense. Few fans realize that Fresno State has been blessed with consistent quarterback play for a number of years. I can count on one hand the number years FS has had uncertainty at quarterback in the last 25 years (1987, 1994, and 1995). Pinegar was not the worst Bulldog quarterback by far nor was he the best, but he faced expectations no other Bulldog quarterback has ever had to endure.
He followed in the footsteps of best quarterback in school history and was expected to duplicate the program's same success from 2001 as a freshman. The 2003 season had monumental expectations and a treacherous road schedule. But he suffered an injury that many players, and people for that matter, never really completely recover from and never had the chance to face those challenges healthy. We will never know for sure if his injury led to his decreased performance or whether a different quarterback could have succeeded in Cignetti's complex offense. However, with Cignetti now at North Carolina, fans have a chance to see if his offense is really that complex and if only a handful of talented quarterbacks can master it. And of course if Pinegar makes the Jaguar's roster then he can not be considered as bad everyone has made him out to be, right?