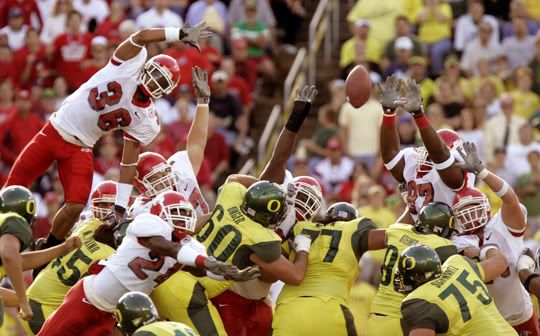 Fresno State's biggest home game this year is Oregon. Nevada might be more important, but nothing all year will top seeing the Ducks. I can not wait to see the mallard green and lighting yellow clad helmets butt heads with Bulldog red helmets on Jim Sweeney Field.
The 'Dogs and Ducks have only played against each other six times but to me it seems like this series has been never ending. In my opinion, FS and UO have a bit of a under the table rivalry brewing. After this year's game in Fresno, the 'Dogs will have to return to Eugene in '07 and '10. I believe Oregon has another return game to Fresno scheduled sometime early in the next decade. It is evident why this year's Oregon game will be the biggest of the season. There will be just one game in Fresno, in the span of 15 years, while five will be played in Eugene.

The series has been emulous. The largest margin of victory has been seven points, which was the first game of the series in 1981. That game was considered the official opening of Bulldog Stadium, despite it actually being the second game played on the field. Fresno returned to Eugene in 1982 and beat the Ducks by six. The schools didn't meet again until 1996 in what became the first regular season overtime game between two IA teams. The following year, the series started to pick up steam, and after the 2002 and 2005 games this series has become fierce.

Duck fans don't see Fresno State as just another WAC school and guaranteed victory, anymore, and 'Dog fans don't see Oregon as just another BCS win to notch, anymore, it has become personal.


9/5/81 Fresno State 23 Oregon 16 at Bulldog Stadium
9/18/82 Fresno State 10 Oregon 4 at Autzen Stadium
8/31/96 Oregon 30 Fresno State 27 OT at Bulldog Stadium
9/20/97 Oregon 43 Fresno State 40 OT at Autzen Stadium
9/7/02 Oregon 28 Fresno State 24 at Autzen Stadium
9/17/05 Oregon 37 Fresno State 34 at Autzen Stadium

Quick Comparison....



Oregon was ranked in the top 10 the last month of the 2005 season and were deserving of a BCS bowl invite. The Ducks finished the season 10-1 and ranked No. 6. Their only defeat was a 45-13 beating by USC and their most impressive win was the 37-34 triumphant over Fresno State (until FS tanked its last three). The Holiday Bowl loss to Oklahoma will probably cost the Ducks about five to 10 spots in the preseason AP and coaches' polls. Yet, UO should be ranked at around No. 20 to start the season.

Fresno State was ranked in the top 25 for 13 weeks last year, reaching a high of 16th the week before and after their 50-42 loss at USC. Fresno State soon plunged to the ranks of the unknown, losing their last three after USC. Had they won those last three instead, FS would more than likely be ranked around No. 25 in the preseason AP and coaches' polls this coming August.

Fresno State and Oregon played as even a matchup as one could expect last September. FS jumped out to a quick 17-0 lead. Oregon stormed back with 20 unanswered points. The game was tied at 20 early in the 3rd quarter, but Oregon took a 10 pt lead into the 4th, 30-20. FS answered with a touchdown, cutting the lead to three, but Oregon answered back and pushed the lead to 10 with fewer than five minutes to play in the game. FS scored a quick touchdown and cut the lead back to three but were unable to stop the Ducks on the ensuing possession and time ran out.
If those same teams played this year in Fresno, most would put their money on the 'Dogs to win straight up. But the teams are different this year or are they?

The personnel might be different but by taking a closer look, both the Ducks and 'Dogs lose key players at the same positions, thus almost making them even once again. But this time the game is in Fresno. The Key Losses and prediction.......

QUARTERBACK- Fresno State is getting rated low by many preseason magazines because it loses four year starting quarterback Paul Pinegar. Oregon, as well, has been hearing the cries about losing starter Kellen Clemens. FS is getting knock because the only quarterback with game experience, Tom Brandstater, has passed for just 49 yards in his career. Oregon's two replacements played last year, with Dennis Dixon getting four starts, after Clemens got hurt in the 8th game. But neither was overly impressive and the Ducks may go into this season employing a two quarterback offense, again. Who loses more- It's a wash. Who will be better 9/9-Oregon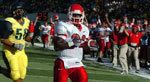 RUNNING BACK- Fresno State is also being downgraded by many because it loses starter Wendell Mathis, Bryson Sumlin, and the leading returning rusher from last year is WR Paul Williams. Oregon loses its starter from last year, Terrance Whitehead. Fresno State's feature back for '06 is, 2003 and 2004 starter, Dwayne Wright. Wright is coming of a two year hiatus due to injury, but looks as good as ever. Oregon's feature back this year will be Jonathan Stewart. Stewart was the top rated true freshman RB in the nation last year in the preseason, but only rushed for 188 yards in an injury plagued year. Stewart had a great spring and was the nation's leading kick returner, 33.7 ypr, last year. Who loses more- It's a wash. Who will be better 9/9- It's a wash.

WIDE RECEIVER/TIGHT END- Fresno State loses two senior WRs, Adam Jennings and Jermaine Jamison, who were four-year contributors and part-time starters. Oregon loses its best receiver in Demetrius Williams. Fresno State's top two receivers both return and have a host of young talented guys ready to contribute. Oregon, despite losing Williams, has an abundant amount of talent, including 2005's second leading receiver, James Finley. Both teams lose their starting tight end but Oregon's' Tim Day was a 2nd team all-Pac 10 in 2004. Who loses more- Oregon. Who will be better 9/9- It's a wash.

OFFENSIVE LINE- Fresno State has to replace its most important position on the offensive line, LT, for the second straight year. Oregon returns all five of its starters and adds two good JUCOs. Fresno State has very capable replacements to fill the LT spot, including a very highly rated JUCO. Who loses more- Fresno State. Who will be better 9/9- It's a wash.

DEFENSIVE LINE- Fresno State loses the WAC's Defensive Player of the Year, DE Garrett McIntyre. Oregon loses first round NFL draft pick and Co-Pac 10 DPOY, DT Haloti Ngata, and its career leader in tackles for losses, DE Devan Long. Despite losing the ball of nails in McIntyre, FS has more returning talent on the defensive in years. Oregon went the JC route and is bringing in three very good JUCOs, but none will be in until August. Who loses more- Oregon. Who will be better 9/9- Fresno State

LINEBACKERS- Fresno State returns all three starters but loses pass coverage specialist Manny Sanchez and WLB Marcus Riley is still recovering from a season ending knee injury. Oregon returns all of its starters, as well. Fresno State has good depth and brings in very talented freshmen. Oregon arguably has its best LB unit this decade. Who loses more- Fresno State. Who will be better 9/9- Oregon

DEFENSIVE BACKS- Fresno State loses two starters including NFL 2nd round draft pick CB Richard Marshall and two quality back ups. Oregon loses its top two DBs from last year, 3rd team all-American CB Aaron Gipson and 1st team all-Pac 10 CB Justin Phinisee, and loses two quality back ups(including former Bulldog recruit and FCC Ram Rodney Woods). Fresno State returns one of the best cornerbacks in the nation, Marcus McCauley and the other spot could be filled by a former De La Salle prep all-star. Oregon looks to replace its two cornerbacks with two former De La Salle prep all-stars, as well. The safeties look strong for both schools despite each losing a starter. Who loses more- Its a wash. Who will be better 9/9- Oregon

SPECIAL TEAMS- Fresno State loses all-WAC KR Jennings and PR Clifton Smith is still nursing an injury but should be in for fall. Oregon only loses PR Phinisee. Both schools return multiple kickers with game experience, but FS has the more experienced and capable punter. Who loses more- Fresno State. Who will be better 9/9- Fresno State

COACHING- Fresno State is replacing three offensive assistants: offensive coordinator, OL coach and RB coach. Oregon is just replacing a the WR coach. Fresno State brings in a former NFL QB coach to be the OC. A defensive coordinator from an IAA school is the new RB coach and former Bulldog graduate assistant returns to coach the OL. Oregon hired the WR coach from Washington State to fill its vacancy. Who loses more- Fresno State. Who will be better 9/9- Oregon


If last year's game was played in Fresno, hands down FS wins that game and the hurry-up offense is not a factor. This year, there is no denying both of these schools lose key starters. But they have adequate replacements on the roster. Based on my quick comparison, FS loses more talent and only will have a slight edge in the DL and SP Teams. However, Fresno State's has more experience returning in the skill positions than Oregon. Both have great offensive lines, but with the better DL, FS should have the advantage in the battle at the line of scrimmage. Oregon's DL improvement rests on the shoulders of JUCOs. Fresno State's weakest link on defense is DB, but Oregon's passing game took a dump last year after Clemens got injured. Oregon averaged 487 ypg in total offense last year with Clemens and 371 ypg without him. Dixon must improve his passing or else it could be a quarterback carousel in Fresno, and FS will be prepared for the spread and hurry-up offense this season.
Bulldog Stadium is worth -3.5 pts alone, throw in the fact that this is a BCS team coming to town, the home field advantage should get bumped up to at least to -4 pts. With that said, I think FS wins by two. If Autzen is given the same home field advantage, FS would lose by 6 or 7 pts if this year's game was played in Eugene. These are non-scientific stats, they are just my opinion.