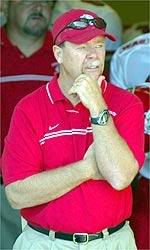 CFN's Richard Cirminiello is listing the
top 50 coaches "you" would want
for the next few years. USC's Pete Carroll tops the list, who else can top two national titles and three Heisman Trophies in just five years. Former Boise State Zhen Master Dan Hawkins was ranked No. 17. So who was the highest ranked coach heading a non-BCS program? Yep, you guessed right, Pat Hill.
18. Pat Hill, Fresno State- In nine years, Hill has become somewhat of a folk hero in the Valley. His us-against-the-world, won't-back-down-from-any-fight persona has been adopted by a program that's earned a reputation under the coach as giant killers. He's ultra intense and demanding, on and away from the field, and is a big proponent of old school, smash-mouth football. Hill is a proven winner on the sidelines, which is the chief reason so many college and pro teams inquire about his availability at the end of every season.
Nine-Year Record: 72-43 (3-4 in bowl games)
Nine-Year Record Before He Arrived: 70-36-2 (3-2 in bowl games)
So "Dick" thinks Hill is the best mind of 53 head coaches not in charge of a BCS school or Notre Dame. Is there another guy out there coaching a "mid-major" that is better than Hill? Many last year would have said Hawkins, but this year it looks like Hill is the Dean of the have-nots.
Ironically, Fresno State's record was better the nine years prior to Hill's arrival and that included losing seasons in each of Jim Sweeney's last three years. Hill has only had one losing season, 1998. It seems no one remembers Fresno State had the West's best winning percentage from 1985-1993, and Hill didn't exactly build something from nothing. Granted, I don't think any other coach in America could have done what Hill has done for Bulldog football in terms academics and national reputation.
Hill has had moderate to good success in his nine years, but has yet to win an outright WAC title. But it doesn't seem to bother the critics too much. His football mind is still considered top notch by most. He finds and recruits talent that other coaches overlook. His teams play hard and are not afraid of a challenge, but lack the mental toughness to finish out a season. In short, I don't think I really agree with "Dick" on this one. Hill is a great fit for the Valley and is the face of Fresno State Bulldog football, but I don't think his style would fit universally as some pundits may think.