So many media types feel Fresno State lacks experience in the backfield with the losses of Bryson Sumlin and Wendell Mathis. Just to clarify for those who are not in the know, FS returns the electrifying "Batman" Clifton Smith. He started running this month after suffering a season ending injury against Oregon last year. He should be ready to go by August and resume his "old" self. For the record, Smith has returned 7 punts in his career, four of those in excess of 60 yards and 3 for touchdowns.
Dwayne Wright was the starter in 2003 and 2004 and rushed for over 1,000 yards in 2003. He looks better than ever after sitting out the last two years recovering from a knee injury suffered against Kansas State in 2004. He could have played last year, but opted to sit out and return in 2006. As you can see above, he shows no sign of ill effects from the injury. He impressed in the spring game, but by August he will be in game shape and poised for a 1,500 yard season.
The little known Shannon Dorsey has been injured for most of his Bulldog career, none of them serious but enough to keep him from beating out Wright, Mathis, Sumlin or Smith the last two years. He is bigger and stronger compared to last year, and in my opinion is capable of carrying the load if Wright can not.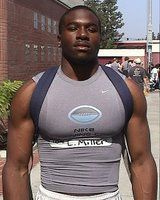 ....And let's not forget about incoming true freshman Lonyae Miller. Miller is every bit as good as USC's incoming freshmen Stafon Johnson, CJ Gable and Kenny Ashley. Johnson was expected to start for the Trojans after Herschel Dennis went down and before Chauncy Washington became eligible. If needed, Miller is physically ready to step in at tailback and take the reigns as FS's 6th straight 1,000 back.