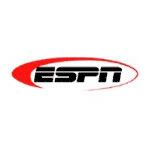 Part of me is happy that the Bulldogs season opener will be
televised in prime time on ESPN
. But the other part of me is pissed that Fresno State is just ESPN's bitch. It is like this every year, ESPN says jump and Fresno State says how high. I know Fresno State doesn't have a pot to piss in when it comes to negotiating television times, but the University has to grow some balls.
ESPN is available in more markets than the deuce, but a 5 pm kickoff in early September in Fresno, WTF? It will be like 115 degrees on the field, and the poor saps sitting in the East stands will be looking straight into the sun for the entire first half. Honestly, I think the stadium will be half full at best at kickoff. Fickle Fresno fans will bitch about work, the heat, the early Friday night kickoff and the pessimists will be calling for loss. So why even brave the heat, when you can sit on your ass at home and watch it in ESPN HD.
The diehards don't seem to mind
, but there is just not enough of them to go around.
Fresno State has played on every day of the week, except Monday and Wednesday, since 2001 in Bulldog Stadium. ESPN has been the culprit and will always have their way with Fresno State until the 'Dogs break through the glass. Back in 2003 ESPN moved FS's game with Oregon State from Saturday to a Friday 7 pm kickoff in the first week of September. Only 35,000 showed up in 100 degree heat for 7 pm kickoff against a hated Pac 10 team. I don't see any way FS attracts more fans, against Nevada, with a 5 pm kickoff, while the team is in the midst of a four game losing streak. Fresno fans are just too fickle as it is, give them another a reason to wuss out and they will.
Pat Hill's goal is a BCS bowl bid and a national title. Therefore, he will schedule whoever and whenever to give his team the best shot at his unrealistic goal. Let us not forget the national exposure he covets. In order for most non-BCS schools to get TV time, they must play whenever ESPN deems necessary. ESPN is the pimp and Fresno State is its best ho.
So when ESPN is in a bind and can't find a 'bigger" school to move its game to an 8 pm ET kickoff on Friday September 1, who does it call do the trick?
ESPN: Hey FS, we know it's f*cking hot in Fresno during the summer, but do you mind bending over and moving your kickoff time right in the middle of that f*cking heat?
FS: OK, but......?
ESPN:Compensation? Don't worry we'll give you a bigger TV audience to showcase your half-empty stadium of fickle fans.

FS: We don't mind taking in the ass, as long as you're happy.
ESPN: Whatever bitch!
I like I said, part of me is happy that the Nevada game has been moved to ESPN.