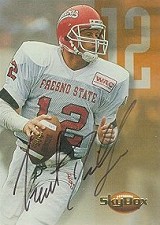 I realize over the past two weeks the blog has dealt with many negative topics, but you have to realize that is what tends to happen when the team everyone in the valley loves is struggling. Today I think I would rather blog about something that is highly debatable but in a positive way. Fresno State has had some pretty good teams in the past. Truthfully, Fresno State has had some downright dominant teams in the past (this of course is relative to the conference they played in). Unfortunately many of these great Fresno State teams had hiccups during their season which in turn made them look far less dominant than they truly were. For example the 2001 Bulldog team blew out half of the teams they played that season. The problem is the nation will remember us for losing back to back games against Boise State and Hawaii (who by the way were good teams that year, the nation just didn't know about them yet). Another great example is the 1989 Bulldog team that went into New Mexico with a 10-0 record and lost their only game of the season.
Over the past five years Fresno State has put itself in position to make BCS runs two different times only to faulter in the end but that does not reflect how truly good these teams were. These teams just had down weeks that would lead to a drop in the polls. So here is a list of the most dominant teams in Fresno State history. I am wondering who each of you die hard fans think is the single best team Fresno State ever had? I am only going back to the 1985 team that went 11-0-1 because I was not in Fresno before that. I don't know much about the Bulldogs from back in the day but if you feel a team before the undefeated 1985 team was truly the best Bulldog team ever then feel free to chime in and let everyone know what year and why they were truly the best.
Year Team Record PF PA
1985 Fresno State 11-0-1 481 209
1989 Fresno State 11-1 441 220
1991 Fresno State 10-2 507 235
1992 Fresno State 9-4 510 364
2001 Fresno State 11-3 560 344
2004 Fresno State 9-3 482 253
Now when you look at these seasons and the numbers I believe it is obvious which team is the best. The 1991 Bulldogs seemed to have the best overall makeup of a team. Unfortunately these Dogs could not run the season as they lost a heartbreaker at Utah State 20-19 after opening the season 7-0 with wins at Washington State and Oregon State. This team's second loss occurred in the final week of the season against Bowling Green in the Cal Bowl 28-21. The 1991 Bulldogs lost a total of two games by a combined eight points. If you look at the point differential of this team you realize that they were absolutely dominant game in and game out. I realize the 1985 team went undefeated and finished the season at #16 in the coaches poll, but I truly don't feel like there was a better team in Bulldog history than the 1991 team. I would like to know from as many fans as possibly who their pick is for the most dominant Bulldog team in history. This should be a good discussion to say the least.
Which Offense Do you Prefer -
In the mid 1980's to the mid 1990's Fresno State ran an explosive offense that often put up 40 points per game. The QB's during this period of time threw for astronomical numbers as the WAC became the conference where games were commonly found to be in the 48-45 range. Fresno State did it's part to show how explosive their offenses were with QB's such as Barsotti, Sweeney, Dilfer, and lastly Volek. In 2001 David Carr had the single most explosive season in Bulldog history as he threw for over 4500 yards and 40 TD's on the season. Today the Bulldogs offense has completely changed. Today we run a clock controlling offense where drives are commonly seven minutes long with respect to TD's. We don't have the explosive offense that can score in one minute if we have to. I prefer an explosive offense that can score in the blink of an eye. I am wondering how many fans enjoy the kind of offense we have today? How many fans enjoy the offenses of the late 1980's and early 1990's? In the end as long as the team wins the offense doesn't matter. I just really enjoy those types of offenses that can score on command.
Norton's Chances Good to Play -
With each day that passes it seems more and more likely that Sean Norton is going to get into the game Saturday. Coach Hill is looking for a spark that can help the offense and if Brandstater struggles at all it looks as if Norton will enter the game. Today in the Fresno Bee there is an article on the
struggles of Brandstater
(On a side note how about two thumbs up for the Fresno Bee for finally writing articles that have to do with what is wrong with Fresno State right now). In the article it looks as if Brandstater has accepted the fact he is not getting the job done and that the right move might be to put Norton in to see if he can succeed. I am not sure if this will have a positive effect in the long run but how can you ignore 4,000 yards passing and 44 td's in his senior year in a highly competitive high school out of Southern California? I just think sooner or later you have to make this move to see if it effects the team in a positive light. Whether I am right or not does not matter, all that matters is the team succeeding from here on during the season. A win vs. Hawaii could go a long ways with respect to the Bulldogs confidence and momentum heading into the LSU game next weekend. Let's just hope for the best regardless of who is in there at QB. We will need a good performance against Hawaii from our QB to have a chance in this game.