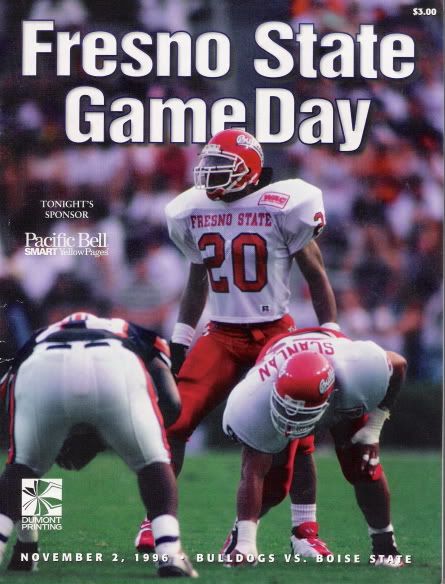 They are ranked #2 in the nation. They are a modern powerhouse college football team. They have one of the top defenses (if not the top defense) in the nation and have a great running game that can devastate any opponent. Fresno State is willing to play them next year without anything in return aside the game itself. Fresno State wants a home game in return but Auburn is not going to give us that, we are not a BCS team. Major market teams such as Auburn will never play in a stadium like Fresno State's. For God sake's Auburn only plays four road games this season and only leaves their home state twice the entire season. In other words Auburn does what they want when they want to.
The question I have is do we as fans feel like this is a good game to play? I know that our team is going to be very young next season with many underclassmen starting. Our QB position is going through much turmoil but hopefully will be fixed by that time. We will have a new starting RB and three new starting wide receivers. We will have to replace Kyle Young at center. We will have to replace Marcus McCauley, Vincent Mays, Elgin Simmons, and Josh Shirley (although the last three on that list haven't been impressive at all). Fresno State will be going through a year of rebuildng next season as Pat Hill will have to plug in players to see where they fit best. We will have plenty of players on the field with little experience. We already have a schedule next season with Oregon on the road (who will be in the top 20 without a doubt) and K-State at home who should be much improved. Adding Auburn is really going to put a strain on this young Fresno State team. I don't necessarily think it is in the best interest of a young team to go and play a game of this magnitude. Does anyone remember David Carr's first game at Ohio State and what happened? We were a relatively young team at that time as well. It is very hard for a young team to go into a hostile environment such as Auburn and have a positive experience (plus Oregon's stadium is pretty damn hostile already). I just believe this game has such a huge downside that maybe the Dogs should find another opponent closer to the West coast to play.
However, I realize that games like this can also be good for a young program. A game like this can teach the young players how tough it is in a hostile environment to execute the way you do while in practice. If Brandstater went through a game such as this and performed above expectations it could very well stay with him for the remainder of the season improving his performance as the season moves along. This kind of game can also help to bring the team together if the Dogs can show they can hang with such a dominant team on the road. Regardless of how you look at it, this is going to be one of the toughest games in Bulldog history if they they play it. USC was tough, but it was only four hours away from home and 20,000 of us went down to USC to watch the game. It was almost a home away from home in that game for the Bulldogs. Auburn will not be that way and there will be very little Bulldog support down there for the game. I just hope the team is ready if we accept a game like this, to say the least it is going to be a learning experience.
Brandstater on Himself
- Today in the Fresno Bee they covered the woes on offense for Fresno State. I was impressed with the fact that Brandstater knows he is not getting the job done. He said if he doesn't improve he knows this is going to be it for him which makes me believe he knows he has to improve. I respect the fact that Tom is not acting like he has played amazing and blaming others for his problems. It's nice to see someone taking the blame when he knows he has not performed as well as he can.