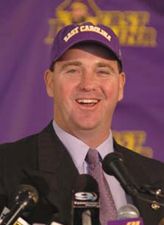 First and foremost Fresno State (10 wins) does not hold the top spot among non-BCS schools when it comes to beating BCS schools since 2000. That honor belongs to Utah (11 wins), after the Utes blew-out No. 24 Georgia Tech in the Emerald Bowl last season.
Second, the BCS started in 1998, Pat Hill's second season and Fresno State has just beaten the 10 teams from the BCS, all from 2000-2004. The Anyone, Anywhere, Anytime mantra is a smoke screen that give Fresno State unbelievable amount of national exposure. Hill knows what he is doing; he is the face of the program and the media eats that stuff up.
If you want to dig deeper and compare Hill's "impressive" record of BCS wins to other programs, take a look at East Carolina.
The Pirates have beaten 10 BCS teams (that's right the same amount) from 1998 to the present, including wins over No. 9 Miami, West Virginia, Syracuse, NC State and Texas Tech in a bowl game. What makes is somewhat puzzling, and in a weird way impressive, is the ECU has not had a winning season since 2000. The Pirates won eight of those games over the span of two seasons, 1999 and 2000. Was ECU known as the "giant killer" those years? No!
In fact ECU started the 1999 season beating four BCS teams in row, sound familiar? Granted one was at home against lowly Duke, and two were at neutral sites in North Carolina against West Virginia -- that finished 8-4 the year before -- and the other against the No. 9 Miami team. The fourth game was a win at South Carolina, who was in the midst of 21 game losing streak. But ECU started their four game run with the win over West Virginia and ended it with the emotional win over Miami in Raleigh, a game that was moved because of Hurricane Floyd.
ECU moved into the rankings for the first time that season, after beating the 'Canes, at No. 20 in the Coaches Poll and No. 19 in the AP, a spot behind Miami in both polls. ECU beat Army the following week and moved up to No. 16 in the AP, but then lost to USM and dropped from the polls. And despite another bad loss to UAB, ECU did beat one more BCS team that season (NC State) finished 9-2 and ranked No. 18 in the Coaches Poll. But lost to 7-4 TCU in the Mobile Bowl, and finished the season unranked.
The list of schools might not look impressive, but the fact of the matter is non-BCS schools are not suppose to beat BCS schools. East Carolina does not pride itself on beating BCS schools, but after beating a couple of ACC doormats (Duke and Virginia) the Pirates have tied the Bulldogs, in what is considered an elite group by the media.
Pat Hill is a great at creating hype, but imagine if East Carolina actually recruited against Fresno State. A recruit could say I want to play at Fresno State because Coach Hill plays the best and is known as a "giant killer". Well, Lou's kid Skippy could respond with, ECU has the same amount of wins over BCS schools as Fresno State, 10, and ECU has beaten two in the last two years. And Fresno State has not beaten a BCS school since 2004. And as far as playing the best, ECU plays three BCS teams in 2006, two at home including one against top five West Virginia.
We all know, ECU has been bad the last few years, 2002-2005 to be exact, but that is because ECU got a little frustrated with Head Coach Steve Logan after 11 years. He led ECU to six winning seasons and five bowl games. But his 2001 team was a preseason top 25 team that was hyped as being the best ECU team ever (keep in mind ECU finished 1991 11-1 and ranked No. 9).
Well, ECU limped to a 2-3 start, rebounded but lost its last three (sound familiar), including a 64-61 2OT loss to Marshall in the GMAC Bowl, where ECU had a 38-8 lead at the half. ECU finished 6-6 and Logan was clinging to his job. His team 2002 team did beat No. 22 TCU but it was one of just four wins on the season. Logan was fired a day after the season ended. Was it a good move? Well, ECU went 3-20 the next two years under John Thompson, who was fired after those two years. ECU won five games in Holtz's first year(2005) and looks to be climbing back into the ring of respectability.
Now, for everyone who wants to fire Hill, keep in mind the grass isn't always greener(ask ECU). And Hill knows that the grass isn't always greener for coaches either(ask Dan Hawkins).
We as fans could see a lot of changes the remainder of the season, and very well, a new Bulldog mantra for the future years. Just be patient, but if Hill doesn't change anything this season, you can count on the program being in the dumps (
ask the Fresno Bee
).