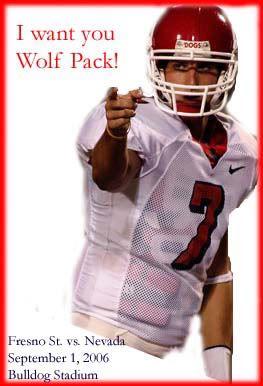 FACTS & STATS:
Site: Bulldog Stadium (41,031) Fresno, California.
Television: ESPN.
Series Record: Fresno State leads, 22-13-1.
Complete Release on gobulldogs.com
Bulldog Offense vs. Wolf Pack Defense

New Offensive Coordinator Steve Hagen has shortened the playbook for new QB Tom Brandstater, but that doesn't change the fact that Pat Hill loves to run the ball down his opponent's throat. RB Dwayne Wright will carry the ball early and often. He has looked great in fall camp and will be running behind an amazing offensive line. C Kyle Young and RT Chris Denman anchor an offensive line that returns four starters. The lone new starter is LT Bobby Lepori – who originally signed at Nevada but walked on at Fresno State in 2004. Lepori took hold of the starting spot in spring and had a very good fall camp.
Expect Wright to carry the ball at least 20-25 times. FB Roshon Vercher is healthy after missing the last three games last season, and is one of the better lead blockers in the nation. A strong running game will ease the pressure off of Brandstater, and open up at Hill staple – the play-action pass.
NT Matt Hines (6-1 285) is the anchor of the Wolf Pack 3-4 defense, but he will be matched up against Young (6-5 330) most of the game. Nevada's ends were not great pass rushers last season, and will have a hard time getting to Brandstater. However, DE J.J. Milan – who missed last season – has emerged and he had 4.5 sacks in 2004. The Wolf Pack's best passer rusher is Bandit LB Ezra Butler – 20% of his tackles last year came behind the line of scrimmage. ILBs Joshua Mauga and Jason Demars will have the task of plugging the holes in the 3-4 defense– Roosevelt Cooks did an excellent job in last year's game. Nevada will more than likely bring up both its safeties to help shore up the run defense.
Brandstater will have a plethora of wide receivers, tight ends and backs to get the ball to. But don't expect Fresno State to throw the long ball, but instead focusing on quick hitch routes and screens, so the Bulldogs can take advantage of their speed on the outside. WR Paul Williams – arguably the WAC's best – will match up against 1st team All-WAC CB Joe Garcia. Garcia and Williams will be an exciting match-up to watch all game. However, CB De'Angelo Wilson will be making his first start and his assignment will be the Bulldog's top WR – the last two years – Joe Fernandez.
Tight end Bear Pascoe could create match-up problems for the Wolf Pack, with his size and speed, over the middle. Nevada's strong-side LB Jeremy Engstrom will be making his first start since 2004 and SS Uche Anyanwu has never started.
Bulldog Defense vs. Wolf Pack Offense

Defensive Coordinator Dan Brown has said Fresno State has never had this much depth at defensive line and linebacker in his 10 years with the program. The Bulldogs will have speed on the ends that was non-existent in years past.
The 4-3 Bulldog defense starts in the middle with a pair of 300 pound DTs – Jason Shirley and Louis Leonard – and stout MLB Dwayne Andrews. Nevada will be hard pressed to run up the middle against the Fresno State defense. Despite the loss of its two top WLBs – Marcus Riley and Quaadir Brown – Ahijah Lane had a great fall camp and will fill in perfectly on the weak side. Alan Goodwin is not a speedster at SLB, but is like Andrews – a big tough run-stuffing LB.
Tyler Clutts and Marlon Brisco combined for 24 starts last year at DE. Both will share time with Pac-10 transfers, Jason Roberts and Mike Stuart, and Ikenna Ike in pass rush defenses against the Wolf Pack's Pistol offense. Bulldogs go three deep at defensive line and might experiment with four linebacker sets – Stuart and Roberts are faster than most linebackers. And OLB Trevor Shamblee showed in fall that he is a great rusher from the outside.
Chris Ault is known for his high-flying passing attacks, but his Pistol offense is a way of developing a stronger running game from the Shotgun formation. Nevada does not use a fullback and the tight end is used more like a WR. The Pistol formation lines RB Robert Hubbard up directly behind QB Jeff Rowe in a shortened three yard Shotgun formation.
Nevada had success running the ball against Fresno State last season, by avoiding the middle of the defense and running almost exclusively to the weak side with counters and draws. Nevada returns three starters on the offensive line and a fourth that started last season before a season ending injury. Fresno State will have to take advantage of their size and speed up front.
If Nevada has an advantage it is Rowe and his receivers. WR Kyle Sammons is out, but All-WAC Caleb Spencer still leads a deep group that returns three starters, including tight end Anthony Pudewell. The Wolf Pack receivers will have a slight advantage over a Bulldog secondary that has two true freshmen on the depth chart. However, Spencer will be covered by one of the nation's best, CB Marcus McCauley.
Nevada will try to establish a run game to compliment their strong passing game. The Wolf Pack will try to take advantage of the aggressive Bulldog safeties. SS Josh Sherley and FS Vince Mays will have to help in pass coverage, specifically Mays. If safeties are caught cheating, Rowe will take advantage and exploit it.
Special Teams, Coaching and Intangibles
Fresno State has the decided advantage in special teams. Nevada still does not have a starting punter and K Brett Jaekle has not made a FG beyond 40 yards in his career. Bulldog K Clint Stitser is healthy and looked amazing in fall camp; P Mike Lingua also returns. Garcia will be handling punt return duties for the Wolf Pack and Hubbard – who averaged 24 ypr last season – will return kickoffs. Last season's part-time punt returner Joe Fernandez is slated to return kicks for Fresno State.
Ault arguably out-coached Hill in last season's game. As well, he has had great success in Fresno per se. His 1994 Nevada team demolished Fresno State 62-35 at Bulldog Stadium, and it wasn't even that close. Hill has never had so much pressure in a season opener in his tenure; his team is in the midst of a four game losing streak.
Fresno State has played great in home openers under Hill, last losing in 1998 to – of all teams – Nevada. Bulldog Stadium is not the easiest place to win, especially if the Bulldogs are focused and motivated to play.
Analysis
Fresno State has too much size and speed up front, and at the skill positions, to lose to Nevada. In a game where the temperature is going to reach the high 90's, the decided advantage will go to the team with more depth.
Nevada's best chance to pull out the win is to make the game a shoot-out. The Bulldog defense should be able to eliminate the Wolf Pack's big offensive plays. And the offense will wear down the improved, but overmatched, Wolf Pack defense.