Spring Practice is only a month old, but that is just enough time for the preseason college football magazines to make their predictions.
Athlon Sports
is always the first to hit the news stands, usually by mid to late May, but often the least accurate. The Sporting News is one of my favorites but doesn't hit newsstands until early June. Phil Steele gives the most stats and information but is poorly written.
When I was a kid I couldn't wait for these preseason magazines to hit the news stands, and I have bought every TSN CFB Yearbook, save 1991, since the 1989 issue with Ron Cox on the cover. Now that I am older, I realize these predictions are just a crapshoot; their basis of information is just spring practice, returning talent, and the team's performance from the prior season. As well, many of them rely on a host of regional newspaper beat writers to write their previews. This sometimes creates contradiction from what the magazine might say in the national preview compared to what the beat writer may say in the conference preview.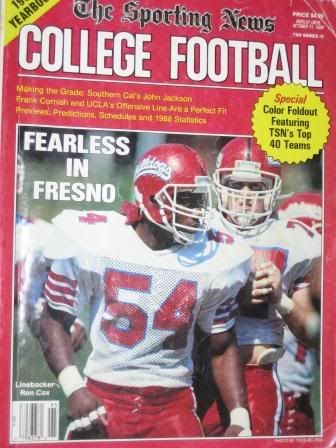 The Fresno Bee's Andy Boogaard wrote the Fresno State previews back in 89 when I purchased my first TSN CFB Yearbook, and the Fresno Bee's Marek Warszawski wrote last year's. I am too lazy to go through all my issues, but I can all but guarantee these two have written the Bulldog preview in TSN for the last 17 years or so. I could be wrong, but I doubt anyone other than a Fresno Bee beat writer has written the preview in TSN. If not, it was a WAC(or Big West in 90-91) beat writer. My point is these guys are "homers", although Boogaard and Warszawski are good writers, and know their stuff; they are still "homers". However, a "homer" will be able to give the most accurate information about his respective team.
Phil Steele claims to have had the most accurate preseason preview for the last 6 years, prior to 2005, based on the
Stassen ratings
. Steele's preview didn't finish on top last year, but still finished a respectable third. He writes every team's preview, and each is an equal two pages. TSN only has two pages for its top 25 BCS teams. TSN just has one page for the rest of the BCS teams and top non-BCS teams and only a half page for the rest of the 119 Division IA teams. Steele knows his stuff, but it is not like he attends spring practice of every IA school.
I didn't see him at any of Bulldog spring practices, but I did see the Fresno Bee's David White. I don't know if White is going to write the TSN preview this year, but if he did he would have the more accurate view compared to Steele. But Steele is a far more knowledgeable CFB expert and a keen football stat freak. That is why he has picked Fresno State to win the WAC the last two years but TSN stuck with Boise State. On paper Fresno State is a "winner" but in reality it does not win WAC titles under Pat Hill.
As far as Fresno State for 2006, spring does not tell the entire story. By just watching or reading the recap of the Spring Game and scrimmage, the quarterbacks look to be abysmal. But anyone who saw Paul Pinegar in last year's practice and saw the new quarterbacks this year, know the new guys are far more talented just inexperienced. By reading the recaps one would think that the offensive line was going to be average because it got beat up by a defensive front that couldn't stop anyone the last four games and lost WAC Defensive Player of the Year Garrett McIntyre. But anyone who saw practice realized that the defensive line is much improved despite losing its best player. And knows Hill was shuffling the offensive line all spring because two starters were out the entire spring.
To make an accurate prediction for the 2006 Bulldogs one will have to watch preseason practice come August. The cornerback situation looks like it is in dire straights, but who's to say incoming true freshmen Damion Owens or AJ Jefferson won't make a difference in the fall. What about walk ons? Hill is synonymous for developing good walk ons; this year will be no different. I spoke with incoming WR walk on Phil Ghilarducci and he is ready to contribute. Most don't know about the 6-4 217 target who runs a 4.5 forty and benches an impressive 340 lbs.
Nationalchamps.net
even stated he ran a 4.4 in their 2004 Oregon State preview. There is another thing about most preseason previews; they often use school's spring rosters and prospectus. Ghilarducci left Oregon State in January of 2004 and was not going to be Beaver in the fall, but nationalchamps.net was very high on the freshman WR, calling him the best of the bunch. How often is
gobulldogs.com
updated? The
spring prospectus
is not even uploaded to the sight and it was released on March 8.
Preseason previews will make assumptions about incoming freshman/talent but only if they are 4 or 5 star recruits. For instance, last year Phil Steele raved about West Virginia's incoming 5 star running back Jason Gwaltney's size and speed. He predicted Gwaltney would win the starting job and even named him preseason all-Big East second team. Gwaltney was a bust but unheralded 3 star running back Steve Slaton came out of nowhere to rush for over 1,000 yards. As well, redshirt freshman quarterback Pat White took over mid-season because of an injury to starter Adam Bednarik. Steele expected the fast, elusive White to start but most preseason magazines based their predictions on Bednarik. With Bednarik WV struggled to a 5-1 start, got whipped in Morgantown by Virginia Tech, and was in danger of getting blown out by Louisville at home, but he got injured in the 3rd quarter vs. the Cardinals. In comes White and WV comes back from 24-7 down, wins in overtime, doesn't lose a game the rest of the year, and finished ranked in the top 5.
West Virginia will be good in 2006, and even ESPN's Pat Forde gave the Mountaineers the nod as his
early pick
(subscription required) to win the national championship. But are you telling me that if WV would have lost by 3 instead of winning by 3, against Georgia in the Sugar Bowl, would it have gotten the same hype from Forde? My guess is no. WV would still be considered a top 10-15 team but would not be mentioned in the same breath with say a USC or Texas. An argument can be made about Oregon too. The Ducks are
ranked No. 19
by Athlon this year. But if they had beaten Oklahoma in the Holiday Bowl, I guarantee Athlon would have the Ducks rated at or near the top 10. Athlon ranks TCU No. 18; I bet that is based on the Frog's 11-1 season last year. Hell, even Utah is ranked No. 23. The Utes finished 7-5 but whipped No. 24 Georgia Tech in the Emerald Bowl. Strong finishes usually lead to higher preseason rankings.
The Bulldogs finished 2005 with a 4 game losing streak, but if they would have beaten Nevada, Louisiana Tech and Tulsa the outlook would be different in 2006. FS returns more senior starters than anyone else in the WAC and has 11 starters that have played in at least 30 games. The Bulldogs also have 2003-04 starting running back Dwayne Wright back at full-strength. However, I will expect most preseason predictions to call for a down year for the 'Dogs compared to their numerous
preseason top 25 rankings last year
. Only two of the top 12 preseason publications did not rank FS in its preason top 25. I expect none to rank the 'Dogs this year.
They will point to youth and the loss of Paul Pinegar, Wendell Mathis, Richard Marshall, Tyrone Culver and Garrett McIntyre as the reasons. Youth? At quarterback and maybe one cornerback spot if junior Damon Jenkins doesn't step up his game. Pinegar was an average quarterback that fit a system and had good players around him his last two years. Mathis is not even close to the bull Wright is. Marshall is irreplaceable, but the team still has Marcus McCauley, who in my opinion was a better cornerback than Marshall last year. Culver's spot will be filled by senior Vince Mays, who is a better athlete and had a great spring. McIntyre's motor is irreplaceable but there is far more talent at defensive line this year than in Hill's previous nine years.
The 2005 team was -4 in turnover margin in 2005, the first time that a Hill coached team finished below even. The 2005 Bulldogs also did not have Wright all year and RB/KR Clifton Smith was lost for the season in game 2. Besides those two, the team had 7 others starters miss at least one game with an injury including losing key starters at some point for the remainder of the season: K Clint Stitser, WLB Marcus Riley, and FB Roshon Vercher. 2004 starting fullback Nate Adams was lost for the year in preseason, as well.
I highly doubt the 2006 team will face the same bad luck and misfortune. The ball usually bounces the other way from one season to another. Couple that with the immense talent and experience this year's Bulldogs have, I say the team will win at least 9 games, with a solid chance at 11. Come August the new offensive coaches will start making their mark, and this team should finally be healthy. Only then can anyone make any sort of legitimate prediction on the fate of the 2006 season. Just about every preseason prediction jumped on the Bulldog bandwagon last year, but this year they will not be so kind. So in short, ignore the preseason publications and start counting down towards September 1.