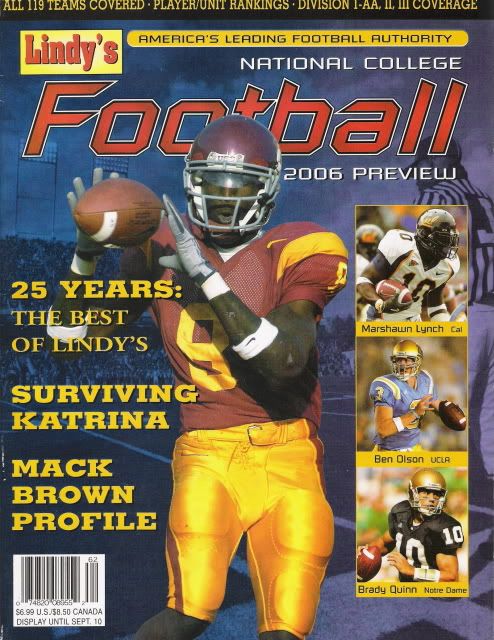 The 2006 Lindy's College Football Preview is the first major college football preview to hit newsstands. Lindy's has been favorable to the 'Dogs in the past picking them to win the WAC five of the last seven years (99, 01, 02, 04, 05). Fresno State only won in 1999 and that was just a share of the WAC title.
This year Lindy's picks the 'Dogs to finish 4th in the conference, the lowest predicted finish by Lindys since 1998, the last year before the WAC split. They also rank FS No. 54 in the nation. Nevada is ranked No. 39, Boise State is No. 43 and Hawaii is No. 52. Exactly, it doesn't make sense. FS returns 8 starters on each side of the ball, second most behind Boise State in the WAC, but still are underrated because of a four game losing streak and loss of a few key starters. It is better this way, FS always is best viewed as the underdog.
Surprisingly, Lindy's didn't even pick Boise State to win the WAC. The Broncos have won the WAC four years in a row, and have only lost three WAC games in their five years of being a member of the conference. More puzzling is the headline Lindy's uses in its WAC preview:
At Long Last, Boise Not A League Lock
. The preview goes to say picking BSU to win its fifth straight WAC title is about as risky as putting your money in oil futures or Google stock.
If you have never read any of Lindy's previews, are not college football buffs or just can't remember. You wouldn't realize Lindy's has never picked Boise State to win the WAC title. Since the Mountain West broke apart from the WAC in 1999, Lindys has picked the 'Dogs to win five of the seven titles. Only in 2000 and 2003, FS was not pegged to win it. Lindy's chose TCU and Hawaii, respectively, to win the WAC those years.
This year Lindy's goes with the trendy pick, Nevada. So where does Lindy's get off by saying Boise is at long last not a lock. They have never picked the Broncos, if anything, it should read: "At Long Last, Fresno Not A League Lock".
Lindy's predicted order of finish for the WAC:
1. Nevada
2. Boise State
3. Hawaii
4. Fresno State
5. Louisiana Tech
6. Utah State
7. San Jose State
8. Idaho
9. New Mexico State
Five Bulldogs were named to Lindy's All-WAC first team: Paul Williams, Kyle Young, Tyler Clutts, Dwayne Andrews and Marcus McCauley. Only Louis Leonard was named to the second team. In their national ratings Young is rated the third best center in the nation, ranking only behind West Virginia's Dan Mozes and USC's Ryan Kalil. I guess the writers failed to watch last year's USC-FS game. Young was the best center on the field and probably the best offensive line prospect in the game. Williams was rated by Lindy's as the 24th best WR in nation and McCauley the 17th best cornerback.
I wouldn't pay too much attention to the all-WAC team or the national ratings. Lindy's names San Jose State Yonus Davis and New Mexico State's Justin Buries as its first team all-WAC running backs. I was not expecting Lindy's to name FS's Dwayne Wright, since he has missed the last two years, but what about Nevada's Robert Hubbard. He along with Louisiana Tech's Freddie Franklin and Davis were the only WAC backs to rush for over 100 yards against Fresno State last season. And FS's run defense was the best in the conference last year. Hubbard and Franklin were named to the second team.
Another puzzling omission from the Lindy's team is Nevada'a quarterback Jeff Rowe. Lindy's named Hawaii's Colt Brennan to the first team and Boise State's Jared Zabransky to the second. In the tidbit "good news" they mention the defending champs return seven offensive starters, including QB Jeff Rowe. But didn't name him to the first or second team? Brennan is arguably the best QB in the WAC, but Zabransky was awful last year, and was highly overrated as a sophomore two years ago. He is not the second best quarterback in this league. Especially, if you believe Nevada will win the WAC. Then you must believe Rowe is among the two best quarterbacks in the league. Then again that is wrong with most preseason preview magazines. One writer writes the previews and another, or group of them, pick the all conference teams.
But the funniest list of all is Lindy's Top 10 NFL Talent. Young in ranked No. 1 and Williams is No. 2, that's fine. However, McCauley is ranked No. 7. Maybe if Lindy's was predicting his overall position in next year's draft, No. 7 would have made sense but the 7th best NFL prospect in the WAC. McCauley is the best NFL prospect on the Bulldogs roster, and after running a 4.31 forty last month he is considered a top 10 NFL pick by some heading into this year. Of the four players ranked ahead of him only one has a chance to get drafted in the first round, Hawaii's guard Samson Satele. The other three Brennan, Rowe and Utah State's WR Kevin Robinson are marginal late first day NFL picks at best. Brennan will get drafted but setting records in the run-n-shoot doesn't exactly wow NFL scouts. Rowe has the prototypical height but the 'pistol' offense is not exactly a pro-style offense. Robinson is a return man/wide receiver. If he is drafted it will be as a return man not wide receiver.
Now, you may ask why I wasted 6.99 on the Lindy's preview. It's because I am a college football junkie. I usually buy Athlon's first but Lindy's was the first to hit the newsstands this year. Next I will buy the Sporting News and Phil Steele. That will probably be the only three I will pick up this year, and I expect all three to be down on the 'Dogs. I know TSN has picked FS to finish second, and that makes perfect sense. But a fourth place finish? Well, that is where FS finished last year. So maybe I shouldn't be too hard on Lindy's predictions. Nah, they still suck.