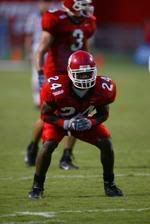 Richard Marshall may have slipped from the late first round down to a late second round pick but he steps right into a perfect situation. The Carolina Panthers lost Fresno native and former UCLA Bruin Ricky Manning to Chicago in a free agent signing. Carolina didn't match the Bears offer and thus were in a need of a nickel back.
Carolina not only got the nickel back
it needed but nabbed Marshall, arguably one of the top 5 cornerbacks in the entire NFL draft. The Panthers and Marshall both win out in this situation. Carolina gets a bigger, faster and more polished cornerback to replace Manning. Marshall gets immediate playing time for a legitimate Super Bowl contender. As well, Manning parlayed his spot in Carolina into a 21 million dollar contract Chicago Bear contract in just 3 years, something Marshall, am sure, has not ignored.
RealFootball365.com
also mention that Pat Hill does a fine job preparing his players for the next level.
Hill's among the most positively regarded coaches in college football because he's learned from so many great pro coaches and knows what it takes to prepare his best prospects for the highest level. Hill learned under the best coach in the game, Bill Belichick, for a number of years, so he obviously has the right pedigree.
If there are still some who doubt Hill's ability to develop college talent, they just have to wait until the 2007 NFL draft. WR Paul Williams, CB Marcus McCauley, and C Kyle Young are projected as first round selections for next year's draft, and none were rated higher than a 2 star prospect coming out of high school.