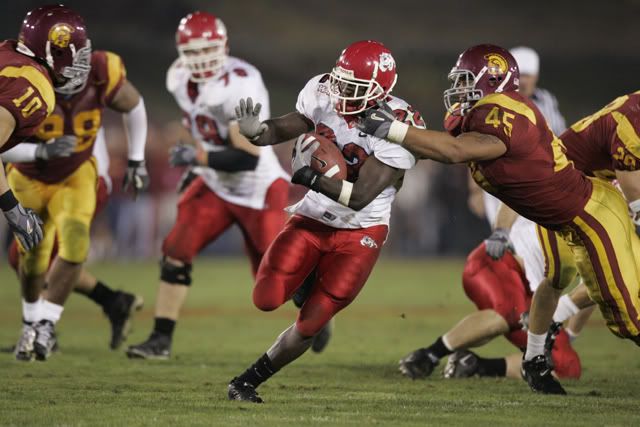 Wendell Mathis left the Valley for UCLA after a stellar career at Merced High School in 2001. After a redshirt year and unproductive freshman year, he left UCLA with less than 100 career rushing yards. He came back home to the Valley to walk on at Fresno State. He sat 2003, his sophomore year, to fulfill NCAA transfer requirements and had two years left of eligibility at the start of 2004.
In the preseason of 2004 his future as a productive Bulldog tailback looked bleak. The returning starter was second team all-WAC Dwayne Wright, and second on the depth chart was bruiser Bryson Sumlin. In the first two games of 2004 against Washington and Kansas State, Mathis had no carries and just one reception. However, a season ending injury to Wright at Kansas State became a blessing in disguise to Mathis. Mathis would start only two games in 2004, but shared a bulk of the carries with Sumlin and finished just five yards shy of 1,000 yard season.
Mathis assumed the starting spot in 2005 beating out Sumlin and Wright sidelined for the year with the same injury. Mathis earned first team all-WAC honors after rushing for just over 1,300 yards and 15 touchdowns, but more importantly became a legitimate NFL prospect. His stock improved greatly with his workout at the NFL Combine in February. He ran two 40s, in 4.51 and 4.56, 4.22 in the short shuttle and 6.93 in the three-cone drill. His 33-inch vertical jump, a 9-foot-9 long jump, and 20 bench presses were also impressive.
He is considered a solid middle round pick, 4th to 6th round choice. NFL.com
Gil Brandt
rates Mathis the 12th best running back available for this weekend's draft. Brandt mentions that Mathis lacks all-the-way speed and had problems with fumbles last year. One thing he failed to mention that many Bulldog fans pointed last year, was Mathis' failure to power through the hole. He would often go down after the first hit, unlike his teammate Sumlin.
Overall, Mathis is a quality back that can catch the ball out of the backfield and is quick enough to make the first guy miss. In my opinion, his running style lacks patience, therefore he often goes down upon first contact. But once through the hole, he has uncanny way to break the big run despite not having great speed. If an NFL team really likes him, he could be one of the first picks of the second day.
The Giants could be in need of an
understudy to Tiki Barber
. Barber had the best season of his career last year, but he is not getting any younger. The
Dolphins are in a need
of back up to Ronnie Brown after Ricky Williams recent suspension for the 2006 season. They will be unlikely to draft one in the higher rounds but somewhere in the middle is a good bet. Mathis could fit the bill for both of these teams, as well as others, dare I say New England might draft him if it is unable to land a top back in the first two rounds.