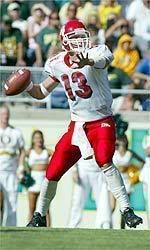 Paul Pinegar will go down in Bulldog history as the career leader in touchdown passes and second, behind Kevin Sweeney, in career passing yards. However, in many fans' minds they are glad to see him leave.
He was invited to the NFL Combine, which was a surprise to many. His senior season ended on a downer and he was less than impressive in the East-West Shrine game. The combine is usually reserved for prospects that are expected to be drafted in the 7 round NFL draft. While many Bulldog fans would argue that Pinegar does not deserve a shot at the NFL, some scouts are still impressed with his size and poise.
His stock ranges anywhere from a 5th round to late 7th round pick, but there is a good chance he will not be drafted and will have to sign as a free agent. The major knock against Pinegar is his arm strength and his decision making. Within 15 yards, he is an accurate passer, but he can not make all the throws and his deep ball is often underthrown. He has been criticized for his poor throws with the game on the line, and not having faith in his arm. However, in the right NFL system Pinegar could be an effective backup or emergency quarterback.
The
Patriots might be looking
for that type of quarterback in the later rounds. Tom Brady is the undisputed starter, but the back up spot will be filled by the ever young 43 year-old Doug Flutie or last year's No. 3 Matt Cassell, who was a 7th round pick despite not starting a game in his college career at USC. If Flutie does not return to football, New England might consider drafting a quarterback.
Tom Casale of Patriots Football Weekly believes Pinegar will be available in the 7th round and maybe selected by New England. His speculation is mostly based on Pinegar's college coaching and system, basically saying Hill's relationship with Bill Belichick could get him drafted. Casale, who praises Bulldog Richard Marshall as the best cornerback in the draft,
does not hold the same sentiment towards Pinegar.
In my opinion, Paul Pinegar was not the best college quarterback, but was not the worst either. One has to remember he only played in Frank Cignetti's offense, after spending his first two years in the program studying Andy Ludwig's offense. Cignetti's offense was a pro style offense, but some considered it a little too complex for the college game. Pinegar was able to run this offense with some success, and his stats were decent for a run first offense. Was the offense so complex that is why Hill stuck with Pinegar through thick and thin in 2004? Was Pinegar a "bad" quarterback or did Cignetti run a "bad" offense? We will find out in 2006, when Pinegar will have a chance to prove himself in the NFL, and Cignetti will be coaching the offense at North Carolina.
Despite all the flack he has taken and his limited athletic ability, I still believe Pinegar could have a lengthy NFL career as a back up. In my opinion, he will never be an NFL starter, but he has the tools to be successful in a limited role at the next level.