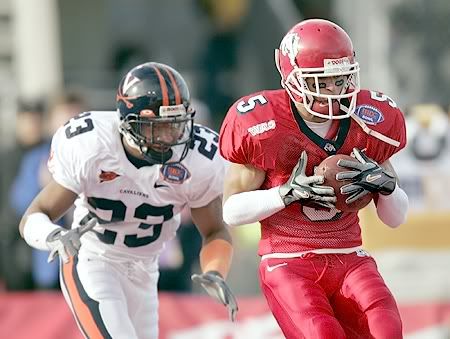 Adam Jennings was never a go-to receiver his four years as a Bulldog, but that doesn't mean he will not get drafted in this year's NFL draft. The 5'10 175 WR/KR is projected as high as a 4th round pick, but 5th-7th round sounds a bit more realistic. His value is as a kick returner, not a receiver. Any time an NFL team can kill two birds with one stone they usually jump at the chance.
Jennings is quicker than he is fast, but can block well and has decent hands. The great year by the diminutive Steve Smith of the Carolina Panthers showed NFL teams that the small stature WR has a place in the NFL.
UCLA's Maurice Drew
is considered the best return specialist in the draft, but Jennings is not too far behind. It helped that Jennings was invited to the NFL combine back in February and had an impressive forty time.
Jermaine Jamison was not invited to NFL combine and that had many NFL teams stumped after the 6'2 200 WR impressed everyone at the Bulldog Pro Day. He was so impressive that the San Diego Chargers invited him to visit April 11 and 12. Tampa Bay is also showing interest in the Jamison. The consensus on Jamison is that he is raw, and did not have great college production. He does not bring extra special teams value, like Jennings, so a team will be taking a chance drafting him, instead of just signing him as free agent. However, his numbers at his pro day are hard to ignore. An athletic 6'2 200 WR that can run a sub 4.5 forty coached by Pat Hill is a rare find. An NFL team will take a chance on him late in the second day and try to mold him into a solid 4th or 5th WR.
Draftdaddy.com
names Jamison one of 16 WRs that could surprise in the NFL draft as a solid 2nd day pick or free agent.
Jermaine Jamison ~ Fresno State -- His performance at Pro Day left some scouts wondering why he wasn't invited to the Combine. At over 6' 2 and 200 pounds, Jamison ran a 4.44 40 yard dash, did a very solid 4.09 short shuttle and looked like a solid overall athlete. He's a player that was very highly regarded coming into Fresno State. After a spectacular freshman season his game leveled off a quite a bit, never even recording 40 receptions or 500 yards in a season, but scouts are known to be intrigued by his size, speed and athletic ability.