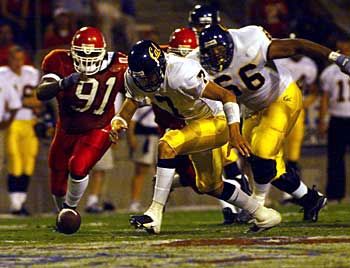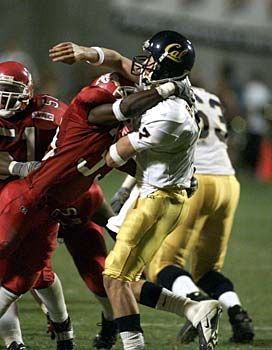 After reading the
San Francisco Chronicle
today, one would think it should be as easy as A-B-C for Fresno State to play Cal, or would it be?
(for those with little time, or patience, the key paragraphs from the SFC):
[Steve]Holton said that coach Jeff Tedford has "an A-B-C philosophy'' about scheduling. That is, each year he wants to play a school from the A list -- a BCS-caliber team from a major conference. He wants a B team from the Mountain West or the Western Athletic Conference. And he wants a C team, or, as Holton said, "somebody you think you have a pretty good opportunity to beat.''

ESPN, in particular, has taken an active role in getting nonconference teams together. It was ESPN, Coonan said, that got Cal and Tennessee interested in each other. "We already had Minnesota on the (2006) schedule, but Jeff's not ducking anybody. He realizes the exposure of a game like that.''

Fresno State would quarrel with the no-ducking part of that statement. Cal hasn't scheduled the ambitious Bulldogs since they beat Cal at Fresno 17-3 in 2000, during the disastrous regime of coach Tom Holmoe. FSU coach Pat Hill promises he'll play anybody anywhere -- e.g. Oct. 21 at LSU -- and Berkeley is just three hours away.

But if Cal is going to play an A school, it would prefer to play someone other than Fresno, even though it is Tedford's alma mater. Part of the reason is that Cal has too much to lose and too little to gain by playing Fresno.

"Four years ago, we could have brought in 30,000-40,000 Fresno fans,'' Holton said. "But now with our season-ticket sales, we've shrunk that (visitors' allotment) down.'' He said, "Cal people will regard Tennessee as something special,'' implying that they wouldn't feel the same way about Fresno.