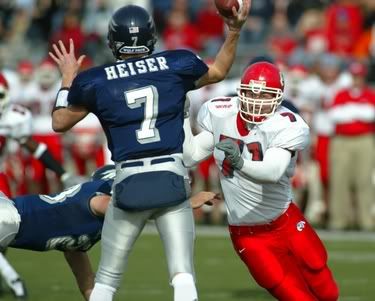 Garrett McIntyre's South Lake Tahoe high school football team didn't win a game his senior year. Despite being named the Sierra Division Player of the Year, no Division IA school offered him a scholarship. He ended up walking on at Fresno State and the rest is history.
Now, after four years playing under Pat Hill, being named Sporting News preseason 2nd team all-American, becoming the schools' 3rd leading career sack leader, and being selected the WAC Defensive Player of the Year,
McIntyre is, again, being overlooked.
What the hell does he have to do to get noticed? I know the obvious. He is an undersized defensive tackle. He is a bit slow as a defensive end. He is not fast enough to be a linebacker. But the guy has a motor that does not quit. Virginia's head coach, Al Groh, referred to him as a "ball of nails" after he harassed the 18th ranked Cavaliers in the 2004 MPC Computers Bowl. Kansas State's former head coach Bill Snyder is still having nightmares of No. 71 single handily shutting down Darren Sproles back in September of 2004. Do you need to ask Matt Leinart about what kind of player Mac is?
McIntyre just wants a chance to prove himself at the next level. He is a marginal NFL prospect at best. Most analysts have him as a 5th-7th round pick, but more than likely he will have to make a roster as a free agent. I likened him to another undersized college defensive lineman, Tedy Bruschi.
Bruschi was a tenacious player at Arizona in the mid 90s, but was only about 6-1 260 on a good day. He has proved his weight in gold, [Super Bowl] rings that is. Today's NFL is different from the NFL of 10 years ago. It is big business. It is all about numbers: height, weight, forty-time, bench reps, shuttle, and etc. McIntyre just does not fit the bill when it comes to raw numbers. He is about 6'3 250 and was timed at 4.87 and 4.76 in the 40 and had a 32½-inch vertical jump, a 9-foot-8 long jump and 27 lifts, at Fresno State's pro day back on March 13.
Will New England take a chance on McIntyre in the 6th or 7th round? The Patriots need linebackers, but can McIntyre be an effective linebacker at the next level? Yes and no, but he will be on a NFL roster next year, I guarantee it, even if he is not drafted by the Pats or another team. It just remains to be seen who gives the guy a chance. Fresno State had two former walk ons make NFL rosters last year, Logan Mankins and Stephan Spach. Mankins was NE's first round pick, and Spach was as a free agent signee with Philadelphia.