It is a censuses thought Fresno State has 10 legitimate NFL prospects, although only two are considered sure fire draft picks, Richard Marshall and Wendell Mathis. Three to four more have an outside shot at getting picked in the later rounds: Paul Pinegar, Adam Jennings, Garrett McIntyre and Jermaine Jamison. Then there are the longshots: Bryson Sumlin, Raymond Washington, Dartagnon Shack and Tyrone Culver. They will likely be signed as undrafted free agents if a NFL team is interested.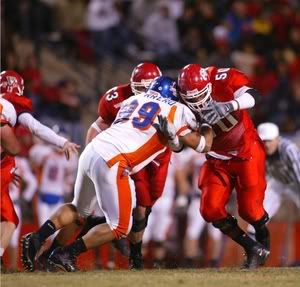 Of 16 departing Bulldog letterman, only six are not considered NFL prospects. Compare that to rival, and four-time WAC champ, Boise State, who has only two NFL prospects among eight departing letterman. Pat Hill has not been able to bring home too many WAC titles, but he is graduating his players and sending more of them to the NFL than any other non-BCS school in the nation.
Of the Bulldog longshots, Sumlin has the best shot at making an NFL roster, in my opinion. Sumlin is a hard-nosed back and knows what it takes to succeed. The former walk was a 1,000 yard rusher in 2004, but was under-utilized in 2005, which hampered his numbers and his stock. He is not very fast, but is a patient runner and does not go down after the first hit. He is also an effective blocker and pass catcher out of the backfield. Most NFL teams have three tailbacks on their roster, Sumlin fits the bill as a third back.
Culver has a tremendous football IQ. He is an intelligent player and is great in run support. However, he lacks speed and trailed on too many plays. He has good size, but will probably be nothing more than a special teams player at the next level.
Shack is a durable offensive lineman that will move to the inside in the NFL. The out-of-place left tackle is quick, versatile, and has a very good chance to make an NFL roster as a backup based on his versatility.
Washington has ideal size and great athleticism, but was a marginal college player his last two years. He doesn't have great speed per se, but is able to close in on receivers incredibly fast. He will be given a shot to make a team, as a nickel back, based on his physical attributes alone.
Fresno State's record for NFL draft picks in a year is five, set in the 1987 and 1990 drafts. But those two drafts had 12 rounds, unlike the seven round version used today. The Bulldog record for players selected in the seven round draft is four, set back in 2002. There is a good chance that record could be matched this weekend, and more than likely will be broken next year when Fresno State could have four players drafted in the first three rounds.