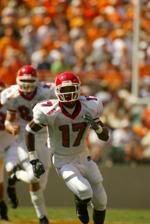 Richard Marshall is gone to the NFL, but his replacement, Damon Jenkins, 5'11 180, got injured during Saturday's practice, which I did not attend. Jenkins was making strides in spring at the cornerback position, which looks to be weakest of the entire team in terms of depth. Marcus McCauley, 6'1 195, will contend for all-WAC and all-American honors, but behind him the list of unknowns is long. Senior Elgin Simmons, 5'9 165, is the only CB with any game experience besides McCauley and Jenkins, but he is shorter than Jenkins, and not as physical as McCauley. Will redshirt freshmen Matt Davis, 5'9 170, and Justin Blackmon, 5'10 170, find themselves in the starting rotation?
I do not know the extent of Jenkins injury. If it is indeed serious, then the cornerbacks will be in dire straits. McCauley and Jenkins make a formidable duo, and Simmons would fit fine as the "nickel" back, but losing Jenkins means the unit just got a whole lot younger.
Should Pat Hill have aggressively recruited a standout JC CB or two, after Marshall declared for the draft? Is he counting on true freshman A.J. Jefferson and Damion Owens to step up in August? On signing day he did say Owens has a good chance to play as a true. Will Hill move rFr. wide receivers Marlin Moore and Jason Crawley to CB? Both were outstanding DBs in high school. Does RB Clifton Smith go both ways when he comes back in the fall? Smith was an excellent young CB as afreshman. Or is the wildcard Lawrence Hood?
Hood is sitting out of spring drills, but will supposedly join the team in August, but is likely to redshirt after sitting out 2005. Hood apparently did not qualify academically this year, and has yet to practice with the team. However, in my opinion, he is the most talented of the newbies, capable of filling the void.