Running Backs: This year has not shown the full turnout of the Running Backs for the "volunteer" workouts but the ones attending have been there every day.

First let us look at how the Workouts are setup and how they work.

Each positional group of Players goes to a different location on the Practice Field where they might do some pushups, knee bends, etc. to get loose. They then split into two man stretching periods that may last 8-10 minutes or longer if someone requires a little more work. From there they proceed into predetermined drills depending on their Positions and work on the Basics that pertain to those Positions. RBs will do various agility drills requiring footwork and movement and then go through several different types of pass receptions and first step setups for moving against the Defense. This is done for a specified time period and takes up about an hour total.

Then they move into the area that is used for actually running different plays that are standard and done over and over and are tied in with the QBs and Receivers on Offense and with the LB's and DB's on Defense. The DL and OL are not involved in the first part of this type of work and come into the combined workouts after a scheduled amount of time.

The RBs carry the ball or block during this time period but there is none or minimal actual contact so it's impossible to judge strength or balance or blocking in an accurate manner. It does give an insight into their speed and agility however and we look very good in that regard.

Now, lets look at the Running Backs that have been at these Workouts.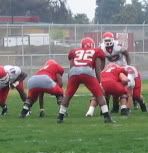 1. Dwayne Wright is totally recovered and is in charge of all the other RBs during the workouts. He runs them through stretches, drills, pass receiving and carrying the ball. He also gives those hands-on help on moves, footwork and how they should see the field. He's still a little heavy but plans on dropping a few pounds during the intense fall workouts and will probably be around 230 to start the season. I'm sure we can expect to see him perform as well as he did before being hurt which is very, very good.

2. Shannon Dorsey looks even stronger this year at 190 and he plans on adding about 5 pounds more before the season starts. He has a very nice looking, fluid movement with good speed and runs to the hole well. Great acceleration.

3. Rich Owens is heavier this year at about 215 or slightly more and always seems to be finding holes to run through. He has a smooth running motion and seems to just run by people. He will be a definite, dependable asset for us. Right now I don't know who will start ahead of whom or how the missing players will measure up when they do show up but the Coaches will soon sort that out.

4. Frank Padilla is a big, fast, strong, smooth Fullback who can catch the ball. He moves very well and is not afraid to block anybody. This MAN is ready if Roshon Vercher cannot start the season for us.

5. Nate Adams has been hard to find and I've only seen him at two Workouts this summer. He doesn't have the speed that Padilla has but he is also a big strong guy and he does have some experience.

6. Aaron De La Rosa is a lot like Matt Rivera was two years ago but he is a very hard worker and I believe we will see him on the field in another year or two. Very shifty and a good pass Receiver and is always open to suggestions from the other Backs.

The above guys are the only ones at the Workouts but some of the Walk-ons probably have to work during the summer to pay the bills. I know Vercher, Clifton Smith and Kreig Peters are recovering from injuries and Vercher and Peters expect to be back for Practice this Fall (and I expect them to) but if they don't make it then Coach Hill won't let them play until they get full practice time under their belt.
I know Clifton Smith is hoping to be back by the Oregon game but I haven't seen him at all lately and I heard he is still favoring his leg while rehabilitating. He said he's worked on his leg strength but not conditioning since his injury and that it will take him a while to build back up. However, if he is not back running full speed by August 20th then I don't see him being able to play judging by other Players returns from injuries.
If Kreig Peters has recovered I believe we will see a lot of him because of his speed and moves. He ran through the Defense consistently during the Sunday night Scrimmages last year. He was about the only RB that Marshall couldn't catch when he got through the line and he's also muscled up since last year and worked a lot on his upper body while rehabilitating his knee.

Lonyae Miller is now working out with the Team and he is a Full Grown Man. He is totally lost out there but is giving his all and by the time August 4th comes around he should be good to go. Very strong looking individual, when I first saw him I thought I was looking into a mirror.-
fsufever
Missing or Resting?
I haven't seen Clint Stitser for over a week except this past Tuesday in the Parking Lot. He had on civilian clothes and was getting into a car just as the other guys were going to the field. I'm hoping he just took some time off to go home or he's practicing before or after regular workouts. He had been absolutely booming the ball up to 8-10 days ago and I hope he just decided to rest up a little. I will find out this Monday and let the Blog know what's happening.