Year after year the Valley is becoming a hot recruiting ground for Division IA prospects. Most pundits argue the 2007 class will not be as strong nor has deep as the 2006 class. The Valley's top prospect is Edison's cornerback Courtney Viney. The four star prospect has already committed to UCLA, and continues a trend of top Valley talent leaving home to play their college ball.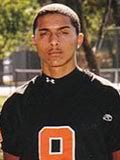 Merced is loaded with IA prospects. Heading into the fall six Merced players are considered IA prospects and all are considering Fresno State. Brothers Logan and Carter Todd(at right) get the most headlines. Logan is a three star quarterback that has yet to get an offer but Fresno State remains atop his list of schools with California. Carter is considered one of the best wide receivers in the state but is a mystery to many why the all-state talent has just one offer from Nevada. Fresno State is still one of his favorites, but the Pac 10 will be calling at the end of the season. On the 1550 SNR this morning Carter said he has no preference between the Pac 10 and the WAC.
In my opinion, the top prospect out of Merced is safety Dion Bland. By season's end Bland will be one of the top safeties in California. Unfortunately, because of that he'll probably choose a BCS school over Fresno State. Merced has two great offensive lineman Michael Chambers and Kyle Davidson. Chambers is being sought after by many Pac 10 schools, but Fresno State remains one his favorites. Davidson is flying a bit under the radar. He likes Fresno State along with some Pac 10 schools. The final Merced IA prospect is running back Garrett Turner. Turner is starting to gain notice after great spring workouts. He is only 5'8 and most schools want him to play defense. Yet, he would like to play running back in college and his early favorites include Fresno State along with some Pac 10 schools. Turner's grades could be an issue, and one of the main reasons schools have yet to offer.
Bakersfield has two great prospects in OL Justin Cheadle and DB Phillip Thomas. Both received offers from Fresno State back in February. However, Cheadle has received 12 other offers since then and his interest in Fresno State has fallen. Thomas on the other hand, still likes Fresno State.
It is no secret Fresno State really wants to sign Hanford's talented running back Avery Horn. FS offered him early on, but Horn has added numerous offers since. Big time powers Nebraska and Michigan have offered him, along with about half of the Pac 10. Despite the hype, Horn still list Fresno State atop his list of colleges with Nebraska a close second. Former Fresno State offensive line coach and current Nebraska offensive line coach Dennis Wagner coached Horn's father at UNLV.
Buchanan's Jory Mason is rising fast and considered one of the top OL prospects in Central California. His top five schools include Fresno State. Kingsburg quarterback Forrest Hunt had a great spring. He was named the top quarterback at EA Sports Elite 11 regional camp in Los Angeles back in April. He favors some Pac 10 schools, but still is considering one of his favorites Fresno State.
Mount Whitney defensive back/running back Damon Bly caught the attention of scouts at the U.S. Army All-American Combine in San Antonio back in January. He has yet to receive any offers and Fresno State is still a possibility. Clovis East had four linebackers in San Antonio for the Combine, as well: Erin Banks, Alex Cabatic, Jacob Moreno and Armando Vasquez. Cabatic and Vasquez list Fresno State among their favorites, but Banks and Moreno have no favorites at this time.
This year the Valley has some really under the radar prospects that have Fresno State ties. Exeter's Vince Pascoe is a hard nosed fullback/defensive tackle, and is the cousin of Bulldog tight end Bear Pascoe. Hill's own son Zak is underrated wide receiver/defensive back out of Clovis West. It's Hill's offspring; you know he has the heart to play Bulldog football.
Besides Viney and Cheadle there are only two other top Valley prospects that have no real interest in being a Bulldog and there are Fresno's Johnny Fields and Bakersfield West's Ryan Matthews. The cornerback caught the attention of schools at the Scout.com Los Angeles Combine. Fresno State is the hometown school, but Fields likes the Pac 10 and Florida. Matthews is being recruited as an athlete. He favors Arizona State and holds an early offer from the Sun Devils.
Honestly, can you blame those four? If an education is your goal and you have the opportunity to attend UCLA, Cal, or Arizona State, would you turn it down? I love my alma mater, but I'll admit a UC degree carries more weight when it comes to the career world. However, you can't ignore Hill's success developing Valley talent into top notch college players and NFL draft picks. Fresno State has to become more than just the hometown school. It has to become the dream school for every young Valley football player from Modesto to Bakersfield. FS can never compete academically with the Pac 10, but on the field the gap is narrowing every year.