Who's Gone: LT Dartangon Shack

Who's In: LT Bobby Lepori 6'5 285, LG Ryan Wendell 6'2 270, C Kyle Young 6'5 330, RG Cole Popovich 6'2 285, RT Chris Denman 6'6 305

Who's Riding the Pine: Cameron Harris 6'3 260, John Guevara 6'2 270, Pierce Masse 6'4 285

Who to Look Out For: Joe Bernardi 6'2 280, James Meeks 6'5 310

Who Else Will See Time: Robin Kezerian 6'3 300, Richard "Oso" Pacheco 6'2 285, Adam McDowell 6'4 285, Chris Piligian 6'5 265

Who Needs to Get His Ass in Shape (if he even makes the team): James Paulk 6'3 310

Pat Hill is a former offensive lineman, and thus he takes to the performance of his Bulldog offensive line very seriously. Since 2001, Fresno State, year in and year out, has had one of the better offensive lines in the Western Athletic Conference.

The 2001 offensive line had the distinction of being the biggest offensive line in the nation. They were great pass protecting line, but were just a bit too big, and a tad too slow, to be effective run blockers. The biggest surprise of the season was having the blind side of David Carr protected by a redshirt freshman, and former walk on tight end, Logan Mankins. Mankins started all 14 games and was named freshman All-American.

The 2002 offensive line was anchored by senior starters Rodney Michael and Joe Schey, and was considered, by some, as one of the top ten offensive lines in the nation. Despite the presence of the experienced seniors, Mankins proved to be the team's best lineman. The 2002 line suffered some injuries but had decent depth and helped pave the way for recording breaking tailback Rodney Davis.

The 2003 offensive line was decimated by graduation, injuries and player dismissals. Mankins was the biggest loss, after he suffered a season ending injury in preseason practice. Projected starter, and former JUCO All-American and four star prospect, James Martin was dismissed from the team in August. And the offensive line's only senior, Fitu Tu'ua, was declared academically ineligible. A few bright spots came out of the dire situation. Freshman center Kyle Young became the offensive line's second freshman All-American in three years. Fellow freshman, and former walk on, Chris Denham, beat out three star JUCO recruit Kawika Edwards, for the starting spot at right tackle mid-season. And sophomore guard Dartangon Shack filled in for Mankins at LT and was named all-WAC.

The 2004 offensive line returned three starters, plus Mankins, and the fifth starter was filled by impressive true freshman Cole Popovich. This group of linemen didn't receive the same hype as the 2002 line, but proved to be a better bunch. The Bulldogs suffered a blow early on, when Popovich was lost for year to a knee injury, in just the second game. He was replaced by another true, Ryan Wendell, who went to be named WAC co-Freshman of the Year and freshman All-American. The 2004 line paved the way for two 1,000 yard rushers (ok Wendell Mathis was five yards short) and Mankins was selected in the first round of the ensuing 2005 NFL Draft.

Last season, despite having to replace Mankins, the line looked to be in great shape. Yet, the line was never able to replace Mankins per se. Shack moved back to LT, and was named all-WAC, again, but he could not replace Mankins' dominate presence on the left side. Popovich and Wendell, though undersized, proved to be one of the better guard tandems in school history. And Popovich became the offensive line's fourth freshman All-American in five years.

Hill started to change his offensive linemen philosophy in 2004, from larger linemen to smaller, quicker linemen. And in just five years, the Bulldogs went from the largest offensive line in the nation, to the smallest one in the WAC.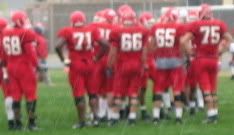 The 2006 offensive line will be one of the best in school history and among the best in nation. For the first time in Hill's tenure, 15 scholarship offensive linemen will be on the roster, and that does not even include the incoming freshmen. Compare that to the 2003 team that, at one point of the season, had just eight. Fresno State has lost some key lineman, to season ending injuries, two of the last three years, but if it happens this year, there is plenty of talented depth ready to step up.

Young and Denman enter their fourth year as starters. Young is arguably the best center in the nation, and Denham has quietly added 20 plus pounds to his already massive 6'6 frame. Denman does not get the hype of others, but is ready to have a "breakout" year. Popovich and Wendell return at both guard positions, and only left tackle needs to be filled, but that is easier said than done.

Mankins and Shack have occupied the left tackle spot for the last five years. Who gets to replace them? As of now, So. Bobby Lepori is penciled in as the starter. Some fans, and so-called football experts (Phil Steele), expect four star JUCO recruit James Paulk to start at left tackle. However, Paulk is far from football shape and there is a good chance he may never make it off the bench or ever suit up in a Bulldog football uniform. Lepori had a good spring, while Paulk sat out most of it over transfer issues. An interesting prospect is former defensive end, Adam McDowell. McDowell had a stellar spring and is now close to 290 lbs, compared to the 260-270 he was last year as a defensive end.

Denman has a great shot to be drafted by the NFL next spring. He has started 34 straight games at right tackle, but ironically, sat out spring ball due to injury. That opened the door, somewhat, for redshirt freshman James Meeks. Meeks is the best pure offensive lineman Hill has ever recruited. Meeks had a good spring and gives the Bulldogs a very talented backup at right tackle.

Young is the anchor of the line in the middle, but Hill entertained the idea of lining up Young at guard and tackle, in the spring. It was mostly done because starters, Denman and Popovich, missed spring, but Hill is also looking for another road-grader like Mankins.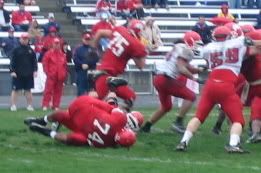 If there is one position where Hill has plenty of depth, it is center. So if Young does play or start at another spot on the line, the center position will not miss a beat. Senior Robin Kezerian transferred to Fresno State from Washington in 2003. Unfortunately, the hometown boy has not been able to crack the starting lineup, but that is not due to a lack of talent. Behind Young and Kezerian, sit two promising prospects, So. Cameron Harris and true freshman Joe Bernardi. Harris is very athletic and can even play tight end if needed. Bernardi is a future four-year starting center, if Hill does not decide to play him this year.

Right guard Popovich is widely considered one of the best guards in the nation, and he is just a sophomore. As stated before, he sat out spring ball, but should be 100% by the start of fall camp. Kezerian is the line's "sixth-man" per se, as he can play every spot on the line if needed, but he mostly backs up the guard position. Richard "Oso" Pacheco is another talented player that can play every spot on the line. He is penciled in as Popovich's back up, but I wouldn't be surprised to see him at center or even left tackle, if needed. Redshirt freshman Pierce Masse can play either guard spot.

Wendell was a back up center in the preseason of 2004. This past spring, he was playing center again. Could he make the move back to center, and that could allow Young to move to guard or even tackle? Behind Wendell is Jr. Chris Piligian. Piligian looks like a tackle but had a decent spring at guard. So. John Guevara, on the other hand, looks like a guard, but played mostly tackle during spring. Both of these guys have numerous springs under their belts and provide quality depth.

Hill signed three promising freshmen linemen in the spring, Charlie Robbins, Andrew Jackson and Ken Wiggins. Hill likens Robbins to Popovich, but with so much depth on the offensive line, it makes sense to redshirt or even grayshirt the hometown talent. Jackson participated in summer workouts and looks like he will play defense line, but could be an effective tackle, if Hill needed him on offense. Wiggins is a little raw, and would be best suited to redshirt.