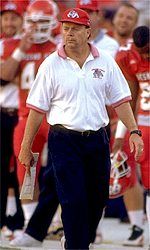 According to the
Idaho Statesman
, Pat Hill is the highest paid coach in the Western Athletic Conference. Hawaii's June Jones is the second highest paid and first time head coach Boise State's Chris Peterson is third.
However, of the nine WAC coaches, Hill's salary was the only one that was not public record and could not be obtain by the Statesman. Their source of info on Hill was the Fresno Bee, which states Hill make $900,000 this season with bonuses that could push it to 1.2 million. I wonder what Hill's incentives are? The Statesman reports WAC coaches get rewarded for winning conference titles, finishing in the top 25, coach of the year awards, academic performance and attendance.
Should Hill get a bonus if FS has a winning season? Hell no! In fact he should lose part of his salary if FS has a losing season, or more importantly loses more than two conference games. Obliviously, the incentive for winning a WAC title is not enough. Or does Hill get a huge bonus if he gets FS to the BCS? Either way, Hill's program is spic 'n span when it comes to academics and off-the-field issues. I guess when you think about the turmoil the basketball program has put on the University in the past 10 years, it is nice to see the school's top and most watched sport succeed on and off the field, despite just once WAC title and one top 25 ranking in Hill's nine years.