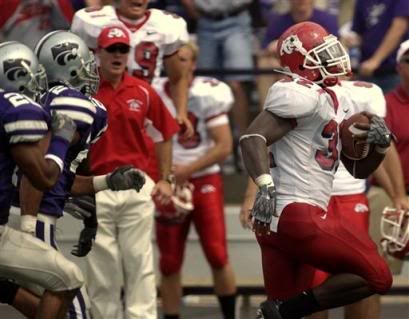 Who's Gone: Wendell Mathis, Bryson Sumlin, and Matt Rivera

Who's In: Dwayne Wright 6' 235, Roshon Vercher 5'11 245

Who's Riding the Pine: Aaron De La Rosa 5'11 185, Kyle Richard 6' 225

Who to Look Out For: Lonyae Miller 5'11.5 220

Who Else Will See Time: Shannon Dorsey 6'1 190, Rich Owens 6' 210

Who Might Not Play: Clifton Smith 5'8 190

Fresno State has produced a 1,000 yard rusher in each of the last five years: Paris Gaines, Rodney Davis, Dwayne Wright, Bryson Sumlin, and Wendell Mathis. I have to mention that if Fresno State didn't play 13 game regular seasons in 2001 and 2003, Gaines and Wright would not have eclipsed the 1,000 yard plateau. Very few Bulldog fans are worried about the tailback position, despite the departure of Sumlin and Mathis, and most of the preseason publications are split on the tailback issue.

Pat Hill believes in a primary every down back. However, in his nine seasons at Fresno State he has never had that type of back for an entire season, save 1997 with Michael Pittman. However, in 1997 Hill had his "worst" team in terms of talent and depth, and Pittman was the "offense". In 1998 Hill switched former walk on fullback Jamie Kimbrough to tailback, when none of the redshirt freshmen tailbacks stood out in the spring. In 1999 Hill had an every down back in the much heralded So. Paris Gaines. Yet, it was redshirt freshman Derrick Ward who stole the show and shared time with Gaines. The 2000 season was Hill's worst in terms of tailback play. Gaines suffered a serious knee injury in the 1999 Las Vegas Bowl and missed most of the 2000 season. Ward got hurt in the preseason and was never 100%. Josh Levi ended up leading the team in rushing with a paltry 397 yards.

In 2001 David Carr led the team through the air, but Gaines was still able to gain 1,000 yards, while Ward missed the season due to academics. 2002 was supposed to be Ward's year, but he failed to qualify academically again. Levi left the team earlier that spring and hot shot sophomore Therrian Fontenot got injured in the preseason. Fresno State was left with walk on redshirt freshman Matt Rivera and out-of-shape JUCO Rodney Davis. Davis became the every down back by default and simply broke the school record for rushing yards in a season. Yet, Davis struggled in 2003 (mostly due to a tough schedule and suspect line play due to injuries) and eventually lost his starting job to Dwayne Wright.

Wright was the back Hill dreamed of, big, strong, and quick with great hands out of the backfield. He was destined for a record breaking season in 2004, but injured his knee in the second game of the season has not played since. Sumlin and Mathis had 1,000 yard seasons in 2004 and 2005, respectively, but both shared starting time over the two years and neither were as good as Wright.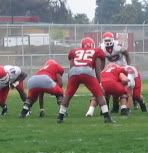 Wright was tempted to make a comeback in 2005, but opted to sit out the entire season and retain two years of eligibility. It has paid off per se; he had a great spring and is a solid 15-20 lbs bigger than he was in 2004. Wright was never a speedster, but was quick and had great power and acceleration. He has not lost a step despite the increase in mass; however, he is more than likely now to run over a linebacker instead of juking him. Fresno State has had not had a back with this size, speed and versatility since Pittman. Yet, Pittman never had the luxury of running behind one of the best offensive lines in country or playing for a team as good as the 2006 bunch.

Wright has passed the eyeball test in spring, but how will his knee hold up once the season starts. He showed no signs of injury, and the consensus thought is he will return to old form September 1, 2006.

The past three seasons, Fresno State has had a backup tailback rush for at least 500 yards. If Hill had his way, he would prefer his starter to carry the ball 20-30 times a game. Injuries, either to running backs or lineman, have taken their toll on the Bulldogs the last three seasons. As long as the 'Dogs stay healthy, Wright should be just the second back in Bulldog history to top 1,500 and could be the first to top 20 rushing touchdowns in a season. And this year's backup will be lucky to top 300 yards in that case.

Clifton Smith is penciled in as the backup, but Smith may not play a down in 2006 if his knee is not 100%. Smith started running June 1 and started making cuts in this month. However, he is not participating in summer workouts and it is doubtful he will be cleared to play by the time fall camp begins (Aug. 4). Smith is not an every down back and will not be expected to carry the ball the 20-30 times like Wright. Smith's value is as kick returner and scat back. His presence on the field changes an entire defensive scheme. He will create matchup problems all over the field. The Bulldogs survived without his services last season, and could afford to have him sit out 2006 to get healthy. Hill will require Smith to have adequate practice time in before he is allowed to play a down. Smith's target date for return is September 9 vs. Oregon, but that is a stretch at this point.

If Smith sits out 2006, it may be because of 2006's biggest recruit, Lonyae Miller. Miller is man among boys. At 5' 11.5 and 220 lbs he does not look like a freshman standing among the other running backs at summer workouts. Miller has a ways to go. He must learn the offense and beat out a few veterans before he can get any playing time. Miller is the real deal, and with so much uncertainty about injuries among the top two backs, it is becoming evident that he will contribute as a true.

Shannon Dorsey was a mere 170 lbs soaking wet when he signed with the Bulldogs in 2003. Three years later, Dorsey has bulked up to near 200 lbs of solid muscle. His career at Fresno State has been plagued by injuries and has yet to make it through an entire season unscathed. With that said, he had a killer spring. He was very impressive throughout spring drills and is slowly proving that he can carry the load if needed.


R-Fr. Rich Owens is the token walk on tailback. From Sumlin to Rivera, Hill has been blessed with quality walk on talent to help fill the depth chart at running back, Owens is no different. Don't be surprised to see Owens get quality minutes in the season opener. He has great size (6'0 210) and is a patient runner. He reminds me of Sumlin when he hits the line; he waits, cuts through the hole and somehow gains 5- 10 yards when you expected him to be stuffed for no gain. Owens is also a great receiver out of the backfield.

So. Kreig Peters is the forgotten talent. Peters was a walk on freshman in 2004, yet was very impressive in summer drills that year. He redshirted and had a great spring and preseason in 2005, but got injured and missed the entire season. Peters is built low to the ground (5'9 205) and has impressive power. He is like Kimbrough but is so much faster. Peters is arguably the fastest tailback, and was the only back that Richard Marshall had trouble catching last summer. Peters is capable of playing Smith's scat back role or Wright's every down role. Yet, he has not been cleared to practice thus far. He is expected back by August 4, but could miss some of fall camp.

Andrew Jones is another walk on that redshirted last year and is expected to contribute mostly on special teams. R-Fr. Aaron De La Rosa draws comparison to Rivera, undersized, limited athletic ability, but great work ethic and determination. He is not expected to contribute this season.


Sr. Roshon Vercher is arguably the best fullback to ever play at Fresno State. That is a huge compliment considering the NFL's best fullback currently is former Bulldog Lorenzo Neal. Neal, however, was mostly a running back than a fullback in his years as a 'Dog (90-92). Vercher is strictly a lead blocking back and his presence was missed last year when he went down with a season ending injury at USC. Vercher has paved the way for three 1,000 yard rushers and could be the first fullback in NCAA history to block for four straight 1,000 yard rushers.

Vercher's injury killed the Bulldogs for two reasons. 1. He is very hard to replace. 2. There was no experienced or talented back up to fill his spot. Redshirt freshman Kyle Richard was thrust into the back up role when Nate Adams went down in August with a season ending injury. Richard did fine in clean up duty, but was not ready or capable of filling Vercher's spot late in the season. Adams is coming around slowly and should be healthy by the start of the season.

Frank Padilla is the future of the program at fullback. He is big, strong and fast. He could play tailback if needed and has great hands. Padilla is a true freshman, and Hill would like to redshirt him, but he may be just too good to keep of the field. Padilla's presence in the backfield automatically changes the opposing defense's scheme. Unlike Vercher, Padilla is a threat to run or catch the ball out of the backfield on every play.

Isaac Kinter has been lost in the mix. He came to Fresno State as a three star linebacker prospect last year. He was moved to fullback after Adams was lost for the season. Kinter was not needed per se, and redshirted. Most fans expected Kinter to move back to linebacker in the spring. At 6'1 230 with great speed, he was expected to help on the outside for a defense that struggled late in the year. But the former high school receiver practiced with the fullbacks and tight ends in the spring. He is a perfect H-back, but Fresno State has not used the H-back since Andy Ludwig was the offensive coordinator in 2001. New offensive coordinator Steve Hagen's offense will be different than the complex pro-style scheme Frank Cignetti used last year. Hagen's offense will be similar to Ludwig's 2001 offense with David Carr. Kinter, like Smith and Padilla, creates matchup problems for defenses with his speed.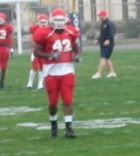 R-Fr. Reynard Camp scored a touchdown in the spring game, and is load to bring down. He is listed at 6' 0 225, but looked closer to 240 at the spring game. Camp was a linebacker last year, but made the switch to offense in the spring. So. Seth McDaniels is another former linebacker that was moved to fullback in the spring.