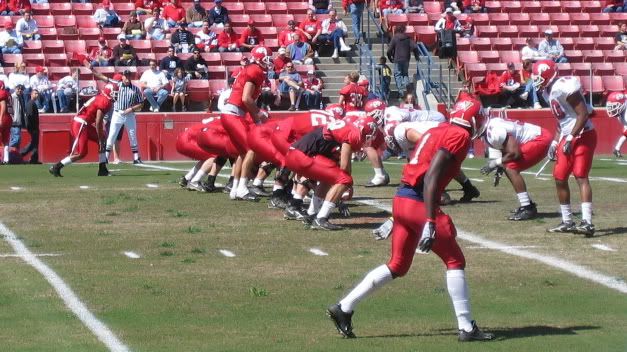 The season is inching closer and before you know fall camp will begin. August 4 is the magic day and it is time the FSFB breaks down the units.
Who's Gone: Paul Pinegar

Who's In: Tom Brandstater 6' 5 220, So. or Sean Norton 5' 11 175, So.

Who's Riding the Pine: Ryan Colburn 6' 3 220, Fr.

Who to Look Out For: Norton

Who Else Will See Time: Jordan Christensen 6' 3 190

All of the national preseason college football magazines are expecting a drop-off at the quarterback position with the departure of four-year starter Paul Pinegar. On paper how can you argue with them when you consider Pinegar's stats? He capped his career with his best statistical season, 265-416 for 3335 yards 30 touchdowns and 15 interceptions. As well, he is only the second Bulldog quarterback (Kevin Sweeney is the other) to pass for over 10,000 yards, holds the school record for career touchdown passes (86), is the only Bulldog quarterback to start four bowl games and the only one to win more than two bowl games. That is pretty impressive, on paper, when you consider current NFL quarterbacks Trent Dilfer, Billy Volek and David Carr played at Fresno State.

As you can see, it is very easy to think that it will be difficult for Fresno State to find a replacement. What compounds the issue is the fact that the four quarterbacks in waiting have a combined 74 passing yards and just one touchdown. Who has seen these kids play? Not the writers of the national preseason magazines, that is for sure. Because if they had, they wouldn't make it seem that Bulldogs are in a state of flux. There is going to be the usual transition, but it is going to be lot smoother than it was in 2002, the last time Fresno State broke in a new quarterback.

Brandstater is the favorite heading into fall camp, but Norton is not going to concede the job to Brandstater so easily. Brandstater has the pro size and pro arm; in short, he is the prototypical Bulldog pro-style quarterback. Norton, on the other hand, is the undersized underdog, just like the Bulldog football program. Colburn, baring any major injury to Norton or Brandstater, will likely redshirt. Christensen will continue to be the holder on PATs. However, Christensen is able to fill in if needed in an emergency.

I would not want to be Pat Hill this fall. I would not want to be the one hat has to choose a starter between Brandstater and Norton. Either one of these talented athletes is capable of succeeding Pinegar and leading the Bulldogs to their first WAC outright title. But who is it going to be?

Hill is a believer in choosing a starter and sticking with his guy through thick or thin. Is it stupid or is it smart? Hill's decision no doubt will divide Bulldog fans. One side will be Brandstater supporters and on the other side will be the pro Norton camp. Norton is destined to be fan favorite, while Brandstater could be next Pinegar if he starts chucking the ball to wrong colored jerseys.

Spring practice really did not separate one quarterback from another. In fact it created more of concern among fans than anything. Neither quarterback had a great spring game, nor impressed Bulldog fans in attendance. Coaches on the other hand were still left with two good quarterbacks and no clear cut favorite.

Most pundits will agree the quarterback job is Brandstater's to lose based on his experience, although limited, and size. Has the college football world, or Bulldog coaches for that matter, not figured out that quarterback size is somewhat overrated? Doug Flutie won a Heisman, broke the NCAA career passing record and orchestrated one of the greatest plays in college football history. Ryan Dinwiddie torched Hill and Fresno State for three years and is the NCAA career leader in passing efficiency. They were not the most highly decorated quarterbacks coming out of high school because of their size but they ruled the college game. I am not saying Hill is not going to start Norton because of his size, but it is common knowledge that the odds are against Norton because of his size.


If Norton was just a bit taller, Fresno State would have never signed him out of Newhall Hart High School in 2004. The former Parade All-American and CalHi State Player of the Year is arguably the best quarterback to come out of the famed Santa Clarita area program. Hart has produced some great quarterbacks including current Baltimore Raven Kyle Boller. Is Norton all hype? One would probably think that, if he/she has never seen Norton play. In my opinion, Norton is probably the most gifted passer ever to step foot in Bulldog Stadium, but that alone shouldn't automatically make him the starter.

Brandstater throws a beautiful deep ball and is a lot more mobile than Pinegar was. However, Brandstater can not throw on the run, nor throw on line as well Norton. Mechanics and talent is going to be an issue, but more importantly who is going to be the better leader?

In summer workouts Brandstater has been taking reps with the first team offense, and has taken charge of his team per se. The players seem to respect his leadership and follow his lead. Norton is working with a combo unit made of up of first and second team players. Norton is a natural born leader, and most who have seen him play will agree with that statement.

The real question as the team heads into fall camp is will Norton have a fair shot at the job. The Fresno Bee's Matt James was saying on SNR 1550 that he is working on a story about Norton and the likelihood that he may never start at Fresno State despite being the program's first and only Parade All-American. If Hill names Brandstater the starter in 2006, what are the chances of Norton playing as the back up? If Hill sticks to his guns, the answer is slim or none.

The one thing Bulldog fans must remember is this year's quarterback will be physically better than Pinegar. He will not have Pinegar's experience, but will be able to make throw's Pinegar could only dream about making. And in my opinion Pinegar was never a great leader on the field. This year's quarterback will "lead" the team.

It really doesn't matter who Hill chooses, as long as his choice wins the job. It would be shame to see Brandstater win the job by default. But it would be a disgrace to see Brandstater lose game after game with poor play when a talented and capable Norton is just watching from the sidelines. Hill may have stuck with Pinegar in past because there was no one else that was capable of filling in, however, that will not be the case in 2006.