Fresno State will follow suit of the rest of the California State University system by
banning alcohol sales at all future athletic events
. All 23 of the CSU schools started the ban back on December 23, and it also limits the advertising of alcohol. The ban will not take effect until the current contract with vendors expires in 2007-08, but it may start sooner. For football, that will mean at least two more seasons of alcohol. The Save Mart Center will continue selling alcohol since it is not run by the University.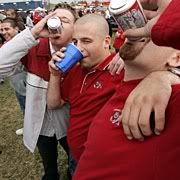 A Bulldog Tradition
Is banning the sale of alcohol so bad? Many say will hurt attendance, but what about the many that stay away from Bulldog Stadium or other venues because the sale of alcohol. The athletic budget is already in the red, losing an estimated $138,000 of revenue from alcohol sales does not help. This really hurts one sport the most, football. No other sport has tailgate parties prior to the start of the game, which will not be affected by the ban. Some fans rather stay at the tailgate and drink then enter the game. If alcohol is not sold inside the stadium many more may choose to stay at the tailgate. Others will think of creative ways to sneak in alcohol or just come to the game drunk.
In my opinion, I don't see it as such a bad thing. Maybe because I like to actually watch the game. If I am buzzing I can't follow the game as well, so I don't drink. I will have a beer or two if someone is buying but I'm not going to the game to get drunk. I can do that after the game, where the beer isn't watered down and doesn't cost $7 a pop.