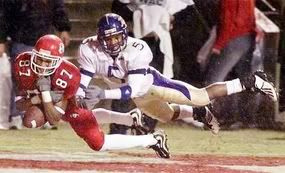 The last couple of days I have refrained from reading the papers or reading anything online, but I have tuned to some of the afternoon radio shows: Kelly and Jim on 1340, Paul on 1430 and Tony D and the gang on 1550. I only listen to parts of these shows and I only listened from the hour of 4-5. Some of these of these stations are just on Pat Hill's nuts and just do not have a clue. I am not going to point fingers or name people or stations. For those who listened to one or more of these shows know what I am talking about. Again, I only listened to part of these shows and I am only going to comment on what I heard.
What is more important, winning a WAC title or winning BCS games and getting national exposure?
For those who say this was an outstanding season, Fresno State did not accomplish neither of these this year. The Bulldogs are unranked to end the regular season for the 8th time in Hill's 9 years and are not WAC champs for 8th time in his 9 years. For the first time since 2000, Fresno State did not beat a BCS team. 2000 was the first year Hill beat a BCS school (Cal) and has beaten at least one every year since.
Ok! How can someone honestly say everything is all right, nothing needs to be changed, and the program is still building towards its goal of a "national title". Some local radio personalities are saying winning the WAC title is not important as the big picture. That the big picture is beating or playing good against BCS schools on national TV.
A record FSN TV audience saw the Bulldogs play the No. 1 USC Trojans to the wire, but piss away their chance at a win because of 5 second half turnovers. I am sure some these same viewers tuned the next two weeks to ESPN2 to see FS get beat by WAC also-rans Nevada and Louisiana Tech.
If the goal is to look good on national TV against BCS teams, shouldn't it be the same when FS plays WAC teams on national TV? Oh, that's right the WAC title is not important. It is only important to us fans in the Valley, and no cares in the rest of the country.
Hill has brought Fresno State great national attention and respect. The average fan in other parts of the country see Fresno State as the little guy that beats the crap out of the big guy, and thinks Fresno State has been dominating the WAC for years. Even some national TV analysts, who don't do their homework, fall into the trap thinking the Bulldogs are kings of the WAC. Yes, Fresno State's program arguably is the best in the WAC and their national reputation supersedes them, but Nevada and Louisiana Tech have more WAC titles than FS does this decade.
For those who really know their college football football, see Fresno State as just a national novelty. I said that Fresno State's play on the field this year resembled the aggressive dominating nature of Virginia Tech. It looks like Fresno State has also adopted the Hokies' recent tradition of late season collapses. Even one local radio personality told Bulldog fans not to hold their heads down because national power Virginia Tech has been suffering some late season failures of late. But is VT really a national power? Or just a big fish in an even big pond? Unlike the Big Fish Bulldogs in the little pond.
Frank Beamer gets credit for turning Virginia Tech into a national power, but many college football analysts have yet to put the Hokies into that class because of the tradition of late season collapses and their resume is not as impressive as one would think.
When Beamer took over VT, there were not chop liver as many would think. Actually, in 1986, the season before Beamer took over VT went 9-2-1, won the Peach Bowl and finished ranked #20 in the final AP Poll. When Beamer took over VT in 1987, he suffered 6 straight non-bowl seasons, but did have back to back 6 wins season is 1989 and 1990. Actually the 1990 team finished ranked #25 in the final coaches poll, but that was due to the fact that it was the first year of the expanded poll and the coaches were not able to rank teams on probation.
Beamer has had VT in a bowl every year since 1993 but has only played in one national championship game, 1999. In his first 3 years VT was an independent, but became a member of the Big East in 1991 and joined the ACC last year. In 18 years Beamer has brought home 4 conference titles, 13 straight bowl appearances, 4 top 10 finishes but no national titles.
Dig deeper and the first two conference titles were in the Big East when Miami was on probation, 1995 and 1996. The third was won behind the arm and legs of one of the best college quarterbacks of all-time, Michael Vick. Miami was not at full strength after probation in 1999 but were in 2000. The 2000 VT team was better than the 1999 version, but lost to Miami and missed out on a BCS berth. The VT legacy did not stop after Vick's early departure to the NFL.
In 2001, 20002, and 2003 the Hokies won at least 6 games to start the season and climb high in the polls and were considered national title contenders. But each one of those teams lost in October and it started a mid-season slide that ended in a disappointing season. Yet, the 2003 team looked like it got over the hump by upsetting their nemesis, Miami, 31-7, a week after losing to West Virginia. But the 2003 Hokies only won one more game, against 1-11 Temple, and lost five others to end the season unranked for the first time since 1997.
Last year's team had very little expectations or preseason hype, but ended up winning the ACC title. This year the hype built up again, but this time VT got through October without a loss. The first week of November was the doom this time as Miami whipped the Hokies, 27-7. VT still had a shot at the ACC title after Miami lost to Georgia Tech, but VT was embarrassed by 7-4 Florida State in the ACC championship game.
If Virginia Tech with their great coach, BCS conference, huge budget, national exposure and big-time recruits can not finish the task and win a national title, how do Bulldog fans expect Hill to do it at Fresno State?
Fresno State, or any non-BCS school for that matter, will not win a national title unless there is some sort of playoff. If an unbeaten SEC champ, Auburn, was left out last year how does anyone expect a WAC school to get a shot. Hell, Utah only got to play an awful Pitt team in Tempe last year after running the table.
Hill's goal when he became coach at Fresno State was to play big-time college football. Accomplished! But since the magical run in September of 2001, his goal has been to earn a bid to the BCS. Hill wanted to be the first non-BCS team to crash the party. Well, Utah beat the 'Dogs to the punch bowl and proved that it can be done without having to play a front loaded schedule with top 10 teams. One note, Utah was lucky to have had good but not great Texas A&M and North Carolina teams at home last year and a bad Arizona team on the road.
Hill has had his Michael Vick, that once in a lifetime player that can lead a team to greatness. David Carr had a spectacular year in 2001 but that team finished with 3 losses, no bowl win and no top 25 finish. He deserved better than a Silicon Valley Classic as his final farewell and at least another conference ring besides the one he got as a redshirt in 1999.
Hill does not need to be fired. The people that say that are just stupid. But the program does need an overhaul. Virginia Tech and Fresno State are in the same boat, but at different levels, great coaches, good teams, but lack one ingredient to put it all together. The boat is slowly sinking, but that does not mean fans have to jump out so quick.
Beat the shit of Tulsa and all be right in Bulldog Land! Until the next time the 'Dogs stub their toe in the WAC on their way to national prominence.