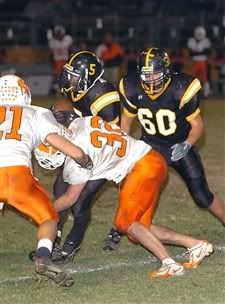 Woodland (Calif.) LB
Kyle Gallagher
wanted to go to Fresno State or Oregon to play college football but neither offered him a scholarship. The Bulldogs offered him a chance to walk on but he declined and he in turn signed with Utah State.
The
Daily Democrat
writes:
Fresno State wanted him to come as a walk-on. He declined.

"They said I was too small. That's pretty much what everyone said. I want to show 'em I can play up there."

Obviously, they under-estimated his heart. At times, he single-handedly carried the Wolves' defense last fall.

Fresno State signed only one linebacker this past class, Austin Raphael. Chris Carter and Kyle Knox are slated to play on the line and Raphael may even be moved to H-back, he played fullback in high school.
I don't believe Fresno State was snubbing Gallagher but in truth the 'Dogs were recruiting few linebackers. And for the first time ever, Fresno State is expected to have the full 85 scholarship players enrolled this fall.
I'm sure if one of the "big-name" four-star guys, Jordan Campbell or D.J. Holt, would have committed the coaches would have made some room. But no disrespect to Gallagher, he just didn't have the tangibles to be part of the 2007 class.
At least he is not another Valley kid on a vendetta to prove Coach Pat Hill wrong and play his best game vs. the Bulldogs. However, Gallagher will get his chance to play in Bulldog Stadium November 3. He expects to play this season as a true and Bulldog fans will get to see if Gallagher was good enough to be a Bulldog. He might want to seek some payback for not being offered a scholarship but at least he is not facing his hometown team.
Roosevelt Cooks and Quinn Harris, come to mind when I think of Valley linebackers signing with other WAC schools and having a chip on their shoulder when it came to playing Fresno State. Although Cooks and Harris may have had good games against the Bulldogs, overall neither would have started for Fresno State.
Cooks (5-10, 215) and Harris (6-3, 200) both signed in 2004. Cooks with Nevada as a JUCO from FCC via Yosemite HS in Oakhurst and Harris with Louisiana Tech from Redwood HS in Visalia. FS already had sophomores Dwayne Andrews at MLB and Alan Goodwin at SLB. And super redshirt frosh Marcus Riley at WLB. Not too mention redshirt Ahijah Lane riding the pine.
Fresno State only signed one LB in 2004 and that was Ryan McKinley, who was an all-state linebacker from Nevada. McKinley has been a solid contributor and will back up Lane this season at MLB.
Good Luck to Gallagher but Coach Hill is a great evaluator of talent. If Gallagher really wanted to be a Bulldog he would have walked on and earned a scholarship. Buchanan center Jory Mason was rated one of the top OL prospects in California by Scout.com but didn't sign this past February. Instead of signing with a team he doesn't care for, he just might walk on at Fresno State?