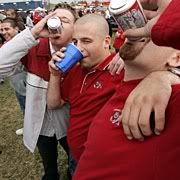 Spring football kicked off Monday and the 'Dogs looked very enthused. The 4-8 season is behind them and it was time to start focusing on 2007.
But as a fan, it is hard to focus on 2007, when you can not even figure out who's who anymore? It's bad enough
gobulldogs.com
has only the 2006 spring roster available. It's even more frustrating come spring when players usually change their number.
Some were easy to spot, like the starting running back. One is wearing #22, that is Anthony Harding, the other #1. By power of elimination only Lonyae Miller could be #1. Some were not so easy.
Three new receivers were on hand in spring ball, #87, #17 and #18. There was also #86 who I am assuming is Darren Newborne who wore that number last year. The top four receivers returning all kept their same numbers #6 (West), #13 (Crawley), #19 (Ajirotutu) and #5 (Moore). Shannon Dorsey was moved to receiver and it looks like he kept his same number, #25. But what about the three mystery players?
One had to be incoming freshman Jamel Hamler. And since he is about 6-1 and close to 200 lbs, it was pretty obvious he was number #18, but he did have #82 last year heading into fall camp before he was forced to sit out. Could he be #87? No, #87 and #17 were both smaller than 6-0 and are probably walk-ons.
Back to the running backs, it looks like Jamal Rashad is now wearing #34 but who is #38. It is not Kyle Richard, who left the program last year. Walk on Aaron De la Rosa is still wearing #20. Andrew Jones and Kreig Peters both left the program last year. Was it Rich Owens? No, Owens is white, #38 was black and resembled Clifton Smith in size and speed.
But the biggest mystery of the day, who is #16? It's not Jordan Christensen but #16 is a quarterback. Obviously a walk on and nowhere near the size of Tom Brandstater or Ryan Colburn but still was a capable quarterback.
Defensively, #10 is probably LB Nico Herron. He wore #55 last year, but #55 was playing DE Monday and was white, Herron is black. The biggest and easiest number change on defense is #7 Jason Roberts. At first glance it almost looked like Brandstater was running defensive drills. I am not saying Roberts looked smaller but more of a testament to Brandstater's off-season workouts; he has bulked up.
Roberts easily stand outs on the d-line sporting a single digit numeral. But where's Chris Lewis? There was no #93 on defense but could he be wearing #27, his number in high school? But #27 is Michael Stuart who played DE last year but was suppose to move to offense. Well, that could explain the tall athletic TE on offense wearing #49.
Backup cornerback Damion Owens has switched to #4, hopefully he can play better than last year's #4 in the secondary.
Once I get the numbers squared away I can focus on practice itself or just have a beer.